After last month's basic SEO features addition, Google continues trying to improve and to add new features to its free blogging platform, Blogger, as the competition in the blogging platforms arena becomes much more serious especially from Tumblr side.
This time, Google is pushing two (optional) new social gadgets and when I'm saying social you probably know that in Google's eyes that means Google+. Additionally, the platform is adding a feature that will allow bloggers to add images by using their webcam.
+1 Button and Google+ Badge
In order to socialize the platform furthermore, Blogger announced in its official blog that the two social plugins of Google+, the +1 button and the Google+ badge, are being incorporated into the platform over the "Add a Gadget" section.
The +1 button was already available and visible before below posts for individual pages recommendation, but this new gadget is allowing users to +1 the blog itself (its homepage). The button can be fully customized by size (small, medium, standard, tall) and by annotation (bubble, inline, none).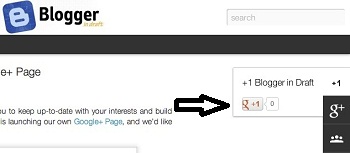 The second gadget is the Google+ badge ("Add to circles") which allows visitors to add the blogger's profile or page into their Circles easily directly from the blog. After choosing to add this gadget, the blogger needs to enter his profile or page ID (what comes after the plus.google.com/).
The two new gadgets are available on the blog's dashboard from the "Add a Gadget" section under the Layout tab.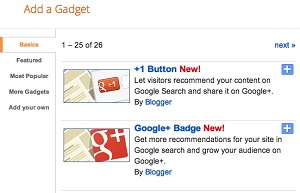 Actually, I'm pretty surprised that these two new gadgets are arriving only now to Blogger. The company has been pushing aggressively and obsessively Google+ features into all of its products and as Blogger is one of the most popular blogging platforms online, it certainly holds a great potential to reinforce the social network.
Add Images Using Webcam
Another recent new addition to Blogger is the possibility of adding images to posts by using the blogger's webcam (in real-time obviously). What is nice about this feature is that the blogger can take a few photos and the platform is saving the last three to choose from.
It is available when writing a post under the "Insert image" icon on the "From your webcam" tab. Here's a screenshot how it appears: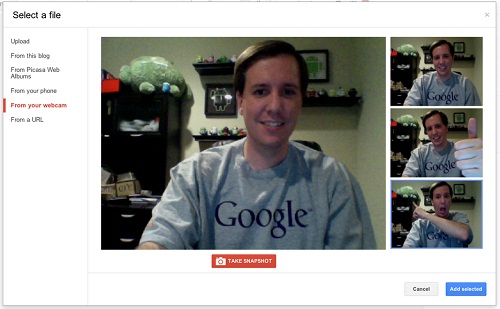 In this opportunity I want to inform you Blogger users that the new dashboard interface which was presented on September 2011 will become the default (and only) one in the next upcoming weeks. If you are still using the old one, you can switch by clicking on the "Upgrade Now" link on the top of your dashboard.