When the young David Karp has founded Tumblr back on April 2007 (he wasn't even at the minimum legal age to drink alcohol), I'm not sure he even dared dreaming what would have become of his little social networking sharing project.
But today five years later, he has many reasons to open up the champagne (he is now at the legal age to do so).
Since 2007 and until now, Tumblr has blossomed and became very fast one of the most popular blogging and sharing platforms on the web. Yesterday on March 28th, it reached for another major milestone- Passing the 20 billion posts mark. The company announced it on a Tweet:
Forgot to make a big deal of this earlier, but Tumblr crossed the 20-billion-post mark Monday night tumblr.com/about

— Tumblr (@tumblr) March 28, 2012
But the incredible number of Tumblr's posts isn't the company only reason to celebrate. Two months ago, David Karp stated that 120 million people visit Tumblr blog network every month (according to Quantcast stats). Checking those stats again, it shows that the blog network already reached for 130+ million monthly visitors on February-March.
Also, it seems that Tumblr is very near to another significant achievement- Powering 50 million blogs. At Tumblr's about page we can see (as for today, March 29th) that Tumblr now powering 49.8 million blogs, in addition to the 20.1 billion posts published (just today 51.4 million posts were published).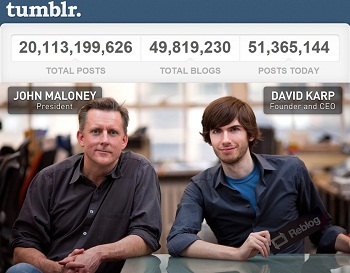 Although Tumblr made an enormous progress over the last few years and proved to be one of the major players in the blogging arena, it still pretty far from probably its biggest competitor in that area, WordPress. According to WordPress stats, the nine-year-old blogging platform powers 72.4 million blogs (and hosts about half of them).
But back to Tumblr, David Karp also mentioned in January that the company wishes to expand more globally. For over the past couple of months, it seems that it managed to shift more of its activity abroad- While in January 45% of all of its traffic came from the U.S. alone, now it has declined to about 42% (70 million visitors).
Other prominent global markets for Tumblr are Brazil with 6.4% of the blog network's monthly traffic (10.4 million visitors), the U.K. with 5.5% (9 million visitors), Canada with 4.5% (7.4 million visitors), Germany with 2.7% (4.4 million visitors) and France with 2.4% (4 million visitors).
Tumblr can also be proud of the level of its users engagement. According to comScore's numbers, visitors are spending on average 89 minutes every month on the site, second only to Facebook (405 minutes) in the social media sites category.