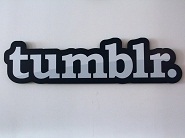 Nowadays, people are looking for more creative ways of social networking as they seek to expand furthermore beyond the traditional social networks (Facebook, Google+). We can see it with the constant fast growing of Pinterest and now, also with another unique social networking service, Tumblr.
Tumblr's CEO and founder, David Karp, has revealed couple of days ago in an interview at the DLD conference in Munich (watch the video at the bottom) few very interesting stats about his social networking site: More than 120 million people visit websites from Tumblr's blog network every month watching approximately 15 billion pages (according to Quantcast).
When examining the data deeper, David Karp was even a little cheap- In December-January, Tumblr blog network had more than 121 million unique visitors (presented as people) that have generated nearly 16 billion page views! That represents more than double unique visitors increase and 3.4 times more page views since the beginning of 2011!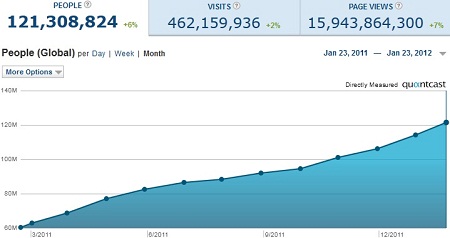 If you asked yourself why the page views have grown more than the total unique visits, it is because the users are much more engaged with Tumblr's contents. David Karp also related to this issue indirectly, saying that original content is being re-blogged 9 times on average all over the network:
"Less the great talented original creators and more the people who are taking all that content and bubbling it up, creating a huge surface area around all this creative content. That means that as a creator coming to Tumblr, if you done some really great work it will end up re-blogged and distributed through the network and appearing on potentially thousands of blogs."
Plans: Focusing On The Creator And Expand Internationally
Another interesting thing that Tumblr's CEO said relating to future marketing/expansion efforts, is that Tumblr will provide the maximum support for creators (that should be embraced), unlike other social networking services (he mentions specifically Facebook and Twitter) that "obsessed" with networks or platforms.
Additional expansion effort that Tumblr is intending to reach for, is a more global audience since about 45% of all Tumblr's traffic comes from the U.S. alone. Tumblr recently added more international people to the team including ex-Google's director of global public policy, Andrew McLaughlin, in order to filter the network to be more appealing for global market.
It also seems that Tumblr is going to experiment with ways to increase the company's profits as they pursue the "noble approach to revenue": "With that many page views we can throw an AdSense ad on that tomorrow and be profitable, the question is that can we come up with a means of revenue that are actually really beneficial for the community".