The big secret behind YouTube success doesn't concealed big record labels companies featuring music videos or film studios releasing movie trailers/teasers. Neither because Google owns and aggressively promote it, they've acquired it when it was already pretty popular. Then what is it?
It is because the site puts the spotlights on the "simple" user itself. Anybody gets the opportunity to become a rock star, a celeb, someone famous. Heck, even Justin Bieber discovered on YouTube. It is the broadcasting network of the masses where amateurish filming rules.
And the fellows at YouTube knows it. And they try to improve it.
Couple of days ago, YouTube introduced a new automatic feature to improve the quality of videos uploaded by users. Now, whenever a user uploads a video with some issues such as shaky filming or too dark color levels, YouTube can offer a way to fix these issues automatically with a click of a button.
After the video has been uploaded, YouTube's video algorithms will identify if it's in need for some repairs which can make the video better. If it does qualify for repairs, the user will be notified in the Video Manager that some elements can be fixed if the user will approve it.
Here's an example for a fix notification for a video with bad lightning, that shows a preview of the fixed version right next to the original version: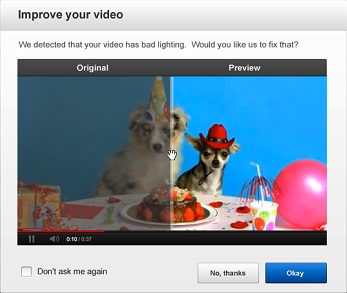 If after approving the fix, the user isn't satisfied with the outcome, it can always undo and return to the original version. The fix feature isn't available directly when uploading videos from mobile devices (yet?), however, it can be done when accessing the Video Manager from a desktop afterwards.
It isn't YouTube's first attempt to assist users create more quality videos. Back in September 2011, it presented the option to edit videos directly on the site and keeping the same video ID. Why then, YouTube is trying to improve the user's video?
Many of YouTube's all time most popular videos have been captured in real-time by the users, without the possibility of going beyond "take one". Sometimes, due to bad filming conditions users might have decided NOT to upload videos which could potentially become very popular.
The new feature designated to encourage users to upload videos even if they suffers from some issues while the feature will fix them. Some people may claim that it ruins the whole amateurish experience that made YouTube unique. I don't think so.
The broadcasting network of the masses would still remain the broadcasting network of the masses. Only with better video quality.