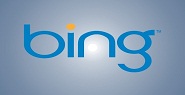 Ever since Google released its first monthly search updates edition in November 2011, the search industry became much more transparent and comprehended for all. Now, the second most popular search engine, Bing, is joining this more transparency tradition as well.
Dr. Harry Shum, which is working for Microsoft search team for the last 7 years (for the last two and a half years for Bing and before for MSN) and he is now Microsoft's head of core search development, has published a new post on Bing blog announcing that his team will begin releasing a series of "Bing Search Quality Insights" posts.
These posts suppose to offer a deeper glance on Bing's search algorithms, how this search engine actually works and its latest quality improvements/changes. Although didn't elaborating on a specific publish time-frame routine (like Google's monthly posts), Dr. Shum made it clear it will be pretty often ("In the coming weeks and months").
In fact, although Dr. Shum only announced about this Bing insights series now, the Bing search team already released several inside-view on Bing's algorithms in the past few months where the last was a few weeks ago, discussing about search authority by Duane Forrester.
Even though it was an excellent post, not so many have read it, simply because it's Bing. I am sure that if this kind of post was published by Google it would have received a much greater exposure and interpretations online. I guess that is one of the ramifications derived from Google's total command over the search industry.
But back to "Bing Search Quality Insights", the first post in this series has already been published.
Search Results Page Richness Variety
The post, written by Bing's search chief scientist Dr. Jan Pedersen, essentially discusses how Bing varying different elements like images, videos, news and maps into the search results page. These "answers" (as Bing referring to them) suppose to offer a wide range of rich results for the users to choose from.
In order to decide what elements and in which order to put in the search results page, Bing considering few of the following points:
Experimenting with human judges to provide their feedback.
Historic search behavior patterns assessments.
Real-time reactions for algorithmic changes.
More than one thousands blending functions signals.
One of the search results page screenshot examples provided in the post, is for the query "Jeremy Lin". As you can see in the screenshot below, the results page includes many type of "answers"- Recent news, NBA statistics, videos and of course "regular" web pages.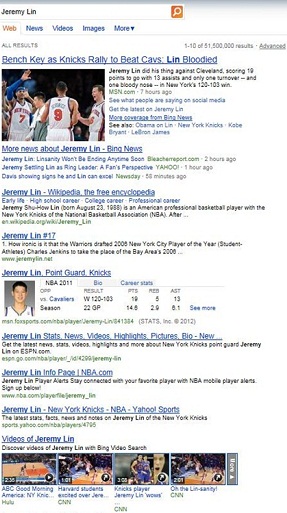 Even though search results page richness isn't something new and Google's results page already contains different elements for five years or so, it still nice to dig a little deeper into the algorithm and understand better how it is working.
Finally, on a personal note I want to add that Bing is actually a very good search engine, probably only second to Google at least for English queries. Yet again, why go for second when you can go for first?