It is this time of the month again where i review the latest search engine trends and market share, for the first time for this year (January 2012). Besides the traditional U.S. and worldwide search engine market share coverage, i will also review one of the fastest growing internet markets, Asia.
comScore – U.S.
The new report from comScore is indicating that the regular (gradual and slow) trends from 2011, also continues in 2012: Google keeps its status as the most popular search engine, Bing establishing its position as second most popular (although far behind) and Yahoo slip goes on into January 2012…
January was a good month for Google as it gained 0.3% share and went up to 66.2% total dominance. Bing managed to benefit from a 0.1% share rise climbing to 15.2% while Yahoo has widen the gap even more falling by 0.4% share to 14.1%. Ask gained 0.1%, up to 3% and AOL kept its humbled 1.6%.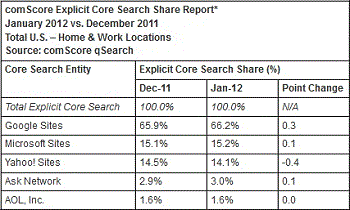 Chitika – U.S.
The report from Chitika is basically pointing on the same trends, however, with much stronger momentum. Google jumped to 75.85% market share, grabbing additional 4.72% share from its (poor?) competitors (mostly from Yahoo) while Bing also took a reasonable 0.42% share climbing to 11.12%.
Yahoo had one of its worst months ever when losing no less than 4.21% share dropping to 11.32%! Ask (0.8%) and AOL (0.91%) kept their small share.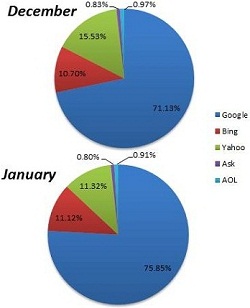 StatCounter – Worldwide
The competition is much less interesting from a global perspective where Google really proves its superiority. In January 2012, it held 91.53% of the world market share, up from 91.32% in December 2011.
All the rest search engines are just picking up the scraps: Bing has 3.56%, Yahoo holds 3.33%, Yandex has 0.35%, ask has 0.34% and other local search engines are holding 0.89% combined.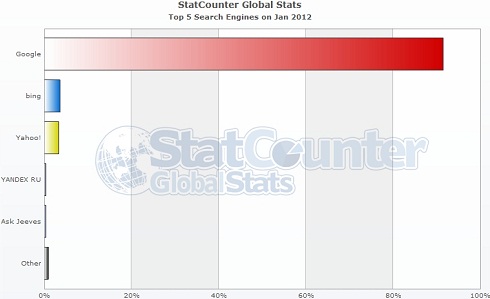 NetMarketShare – Asia
It is always good to know what is going on in world regions that the population is getting exposed more and more to the web. Although Google rules Asia as well with 73% share, things are a little different… Baidu is the second most popular search engine in Asia with 15% share in January 2012.
Yahoo holds 9% (mostly due to strong performances in Japan where it has nearly 50% of the market share) and Bing stands at 3%.