It looks like Pinterest constant fast growth isn't only affecting users and marketers social networking usage patterns, but also impacting enormously its competitors that needs to adopt and adjust their interface to fall in line with the new high visual standards.
This is at least the main reason I thought of (just my humble opinion of course) that Flickr, the popular host-and-share photo service, is making a pretty drastic remodeling for its whole interface which will come in different time segments throughout 2012, starting at February 28th.
In an interview to BetaBeat, Flickr's senior product manager Markus Spiering, has revealed that the site will receive its first wave of changes next week, beginning with the most basic feature- Flickr's photo view. Here's how the new photo view would look like: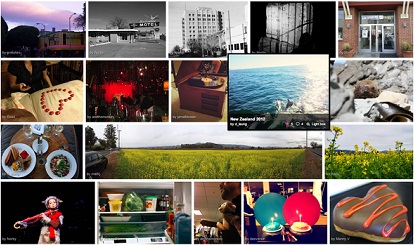 No, I didn't posted by mistake a screenshot of Pinterest interface… Yes, I known that it resembles it tremendously with the different sizes small images appearance and the almost NON white spaces on the page… But actually when thinking about it, why wouldn't Flickr imitate Pinterest look?
This kind of visual appearance already proved to be highly adoptive and engaging by the users, so why reinvent the wheel if you can simply just improve it (or try to at least)? This isn't unusual, Facebook has just done it with its new photo interface basing it on another social network (guess who?) successful model.
Another Flickr's feature that will receive an upgrade is its upload page that will offer a more friendly modern app-style drag-and-drop look. The upload page upgrade will roll out to all users by the end of March 2012. Here's how it will appear: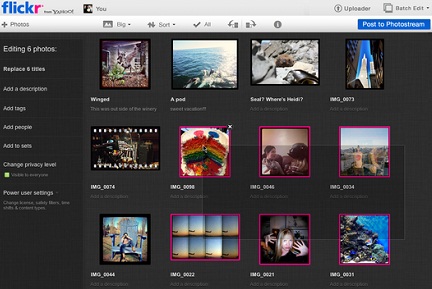 Some of the future changes are hinted to be mobile related, aligning with Yahoo's new mobile strategy (Flickr is Yahoo's property), which will arrive a little late (just my humble opinion again) as other photo-oriented social networking services like Instagram and Pinterest and also social networks like Facebook and Google+ are already well established in that area.
But its better now than never I guess.
Overall, there is a consensus that Flickr traffic is in decline at least for the last 12 months (according to Quantcast, Compete and Alexa) although it still one of most popular photo sharing services online. The changes will certainly shake things up (especially with the arrival of the mobile upgrade) and might bring Flickr back to growing momentum and not a declining one.
Competition is a great thing.