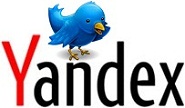 Twitter can mark a big win for the micro-blogging social networking site in its global expansion quest. The company managed to reach an agreement with the popular Russian search engine, Yandex, to grant it access to Twitter's full feed of all public Tweets ( 250 million daily Tweets, if you asked).
Yandex released a statement today where the Russian public company has presented the new partnership, stating that new Tweets will could be searchable in Yandex's Blog Search almost immediately after they have been posted and also introducing a Twitter-dedicated search section in twitter.yandex.ru.
The search itself can be based on @username or #hashtag besides the regular keywords search. Although Yandex receives full access for Twitter's feed, it seems that it is going to focus mostly on eastern-Europe languages and users:
"Tweets of over two million users are available for search on Yandex. Twitter posts of those users who tweet in Russian, Ukrainian, Belarusian or Kazakh, as well as top feeds in any other language, will be included in Yandex's Blog Search results."
The deal specific details weren't disclosed but the word on the (virtual) street is suggesting it is similar to the presumed $30 million agreement of Twitter and Bing. Additionally to the direct source of revenue, it will also expose Twitter's new self-serve ad platform to more users from around the world.
In any case, it is reinforcing Twitter's international growing ambitions, especially in Russian speaking regions- Yandex is the dominate search engine in Russia (and its surrounding) with about 60% market share and about 45 million monthly visitors.
From Yandex side, the deal is contributing tremendously to its social networking search the company has announced just yesterday (most probably it wasn't coincidental) and will add up to the 250 million accessible personal profiles from social networks like Facebook, LiveJournal and the Russian social networking sites VKontakte and Odnoklassniki.
It is interesting to see if Yandex will also integrate the social networking search (including the Twitter deal) into its English version (Yandex.com). At the moment, it isn't active but it can surely help Yandex expanding to English-speaking audiences.