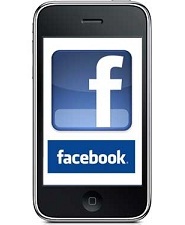 After Facebook filed for IPO three weeks ago, I was looking for a justification for the company's worth valuation for $75-$100. My humble opinion (and also many others) is that a company which profiting $1 billion annually, should be far from these kinds of worth estimations.
However, a new study may shed some light about this bubbly market cap.
The study, from the U.K. research firm Mobile Squared, is suggesting that Facebook's earnings from mobile advertising in the first year of launching could reach for $1.2 billion just from its six leading global markets- The U.S., the U.K., France, Germany, Italy and Spain.
Facebook's U.S. mobile user base is the largest and consequently will generate the biggest part of first year projected mobile revenue, $653.7 million. The company's U.K. mobile user base will generate $166.6 million, France, Germany and Italy will contribute $100 million each and Spain will add additional $70 million at the initial 12 months.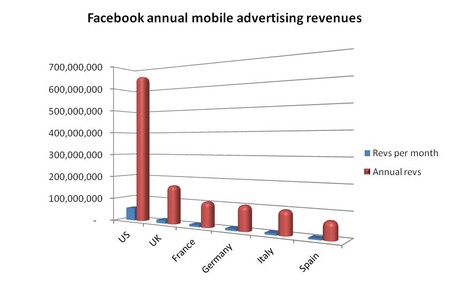 The Calculation Logic
If you aren't interested in understanding the mathematical logic behind the study, you can skip the following part. Here's how Mobile Squared chief strategy analyst, Nick Lane, has analyzed Facebook's predicted mobile ad revenue:
The total number of mobile users from these six markets is 185.3 million (comScore estimation). If calculating that the average user spend in average 12 hours monthly on the social network (which is VERY conservative) and Facebook will serve an ad every 20 seconds, with an average CPM (cost per thousand views) of $0.25 (which again is VERY conservative), it all adds up to slightly over $1.2 billion in a year.
Again, the study is only considering the top six leading Facebook's global mobile markets and only in the first year. Mobile ad earnings are likely to rise through time (as the average CPM climb) and obviously with a larger mobile user base, profits would climb accordingly.
Facebook Already Privately Trading Above $100 Billion Worth Valuation

According to the private companies online marketplace SharesPost, Facebook's last transactions already granting the company a worth of $102.6 billion ($44 per share), signaling the enthusiasm of many investors even before the IPO.
Do I believe its a fair valuation? Currently not. However, if Facebook will indeed launch mobile ads soon, if indeed it will prove to be a profitable product, if indeed Facebook desktop ad revenue will rise to $7 billion by 2013 (eMarketer prediction) and if indeed Facebook user base will continue to grow, then yes.
A lot of "ifs", but if there is one thing we can learn from Mark Zuckerberg is that everything possible.