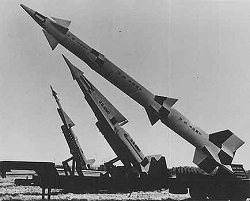 Using special sophisticated elements to evade, marking others as dangerous and constant slandering. No, the communists haven't rose up again, it is just the tech world 2012.
Over the past week three pretty amazing stories which were centralized around two major technology companies, Google and Microsoft, have filled the tech blogging world: Microsoft flagged Google as Malware, Google bypassed Safari setting to monitor users and Microsoft put Google on blast (again).
Microsoft Security: Google.com Is Malware
To show its love during Valentine's Day, Microsoft created a big surprise- For about four hours that day, millions of users from the U.S., Australia, Denmark and New Zealand couldn't access Google.com as some Microsoft security error update mistakenly identified the site as Malware and blocked it.
Microsoft support forums were flooded quickly with raging complaints from users that weren't able to visit the most popular search engine in the world. After approximately four hours, Microsoft released a new security update that had resolved the issue and also a brief apology:
"On February 14, 2012, an incorrect detection for Exploit:JS/Blacole.BW was released, we provided an update to addresses the issue (signature versions 1.119.1988.0 and higher) on the same day. We apologize for the confusion this may have caused our customers."
So Microsoft apologized to its customers, but about some apology to Google? I guess, not in this lifetime…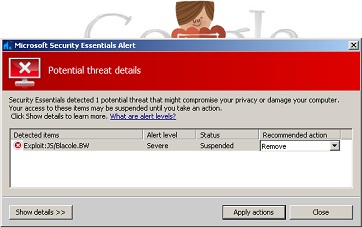 Google Bypassing Safari Privacy Settings
If in the prior story Google played the role of the victim, in this story it was already the attacker. The Wall Street Journal has revealed that Google is bypassing the privacy settings of Apple's browser, Safari, in order to track people private information.
First, it is important to know that unlike other browsers, Safari has more severe settings that don't allow third party cookies (codes that help keeping users logged in or allow sites to know when was the last time the user visited). Apparently, these settings conflicted with some of Google web features (such as the +1 button).
But Google found a way to evade these settings (alongside other smaller advertising companies). It placed in its we properties sophisticated codes that essentially make the Safari browser believe that the user has granted its permission for those third party cookies (in simple words), which allowed Google's features to work.
Almost immediately after contacted by the WSJ, Google deleted the codes which is probably pointing at admission of being guilty. However, I tend to agree with MG Siegler and say that the WSJ probably made it look like a bigger super-scandal than it actually was (their headline was "Google's iPhone Tracking" while actually Google didn't track any iPhone).
Microsoft Besmirching Google
Of course that Microsoft didn't miss this opportunity to defame Google while promoting its own products on the way. In a post on Windows Blogs (under Internet Explorer Blog), Microsoft is talking (trashing would be more accurate to say) about Google wrong privacy practices (regarding the Safari story). Here's the highlight of the post:
"This type of tracking by Google is not new. The novelty here is that Google apparently circumvented the privacy protections built into Apple's Safari browser in a deliberate, and ultimately, successful fashion."
Obviously that Microsoft also promoted its own product and called people to download Internet Explorer 9, stating that with their browser the users will have full privacy control. Or in their words: "Not Google. Not advertisers. Just you." (classy)
It isn't the first time Microsoft is taking such an offensive approach against Google. Just a few weeks ago it went for a large trashing campaign in major newspapers against Google new privacy policy.
What can I say, John Kennedy and Nikita Khrushchev are rolling in their graves…