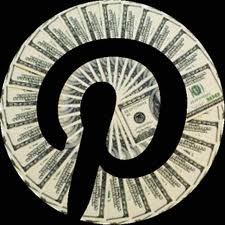 Pinterest simply doesn't want to give up the spotlight. And as much as i intended to take a Pinterest covering break, the social networking service keeps making headlines… However, this time it isn't about its phenomenal growth rate or great design but about an issue more dubious and unflattering manner related.
As the virtual pinboard social networking site has began grabbing the attention as a great traffic source, it also began attracting many marketers and online retailers that tried (and still tries) to sell products on the site. But while many visitors rushed to the products pages, the retailers commission remained at $0. Something happened on the way…
Changing Original Links To Pinterest's Affiliate Links
It has been revealed that Pinterest had changed (and still is) many of the original links to the product pages, to its own affiliate link to generate some revenue from the affiliate commission while the publisher of the Pin hasn't been notified that the commission will go to the site and not to him/her.
Best showing it through a live example: You can see below a screenshot of a Pin that i found, about flavored body paints product. At the bottom of image you can see the URL it is linking to (marked with an arrow)- Noticed that it is an affiliate link generated to attribute the commission to Pinterest.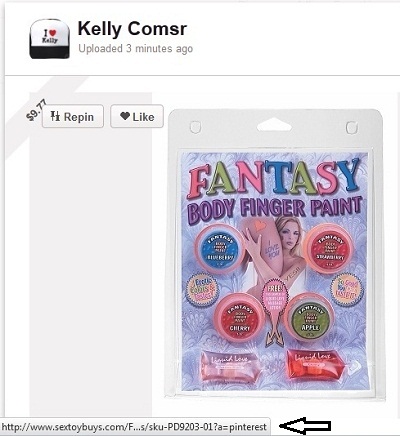 Please note that the Pin has been uploaded just 3 minutes before i discovered it and it is already contains Pinterest's affiliate link and not the original one. Meaning, that Pinterest's platform identifies affiliate links (or regular links to retail websites) in real time and switching them to the company's affiliate links automatically.
Not a Problem With The Method, Just With The Disclosure
As it revealed, to generate those affiliate links Pinterest is using the affiliate content monetization company, Skimlinks. Because all the hit Pinterest has received lately due to this affiliate links story, Skimlinks posted a blog post yesterday relating to the matter where they are basically arguing that this is a legitimate method to earn (which i agree with and explain next):
"…it's not a secret or sneaky or covert, but a very popular, mainstream, and valuable approach to content monetization." "…Pinterest and many other social discovery sites have been working with us for a long time, and although they are fabulously popular now, we like to think we helped them get the revenues and insights that helped them grow."
Although i know that many online retailers and affiliate marketers probably won't be happy with this, but Pinterest have all the right to generate revenue from its growing popularity site and in many cases this sort of monetization method is much better than ads that can interfere with the user experience.
The only problem with the current situation (as i see it) is that Pinterest MUST disclose that it is generating revenue from third party sites by CHANGING the user's links. I have been browsing and seeking in Pinterest's privacy policy and terms of use, where i DID NOT find anything that points at that monetization method.
Almost 12 Million Visitors In January 2012
On the meantime, according to data from comScore (that been published in TechCrunch) Pinterest has breached the 10 million monthly U.S. visitors milestone in January 2012 for the first time, landing at 11.7 million unique visitors. This is the fastest time ever for an independent website to cross the 10 million monthly users!
Additionally, the level of user's engagement with the site's contents is also rising and it is now at nearly 98 minutes a month in average per visitor.