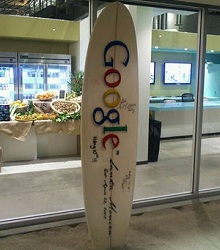 I have to admit that the term "get paid to surf" is associated with online scams and frauds for me. As a person that is constantly reviewing and covering all kinds of opportunities on the web for a living, i never witnessed one legitimate "get paid to surf" program. That is until now.
Google is launching a new get paid to surf program called Screenwise (although yet to announce it) where users can receive monetary compensation for basically giving up their private internet browsing data and letting Google using it to understand better the users surfing experience.
Your Privacy For $5 Amazon Gift Card Code
To launch the program, Google has partnered with the market research company, Knowledge Networks, that serves as a panel management and will assist analyze the user's surfing habits. To join the program, users can leave their email address at Screenwise page and once accepted, install the Screenwise browser extension for Chrome (that will allow Google monitoring the user's web browsing).
But before rushing into signing up to the new service, don't expect to really earn from it (at least not yet). Google stating that after signing up and installing the browser extension, the user will immediately receive $5 Amazon gift card code and every three months receive additional $5 Amazon gift card code.
Although that in the Screenwise page it is stated that a user can receive up to $25, in the notes section at the bottom of the page it mentions that Google might reevaluate the amount for participating in the program for more than a year, as this research will develop further.
I think that Google is currently only testing this program and if it will generate some success they will increase the money compensation. I don't believe that they will decrease it, because the compensation is already pretty low and symbolic. In any case there are three basic requirements to join:
Only 13 years of age or older users.
Must have a Google account.
Using Google Chrome (and to install the browser extension).
Even though this program is completely optional, Google is risking with more criticism (and trashing from rivals) about collecting the private information from the users after their announcement on the new privacy policy which will take effect at the beginning of March.
My personal opinion is that Google may have chosen a good initiative (which i believe it really is!) to help the company improving its products/services WITH the permission of the users, but the timing might play against it.