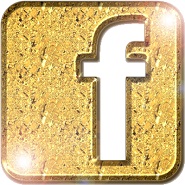 If Google is the undisputed king of search ads on the web, then Facebook is the king of display ads (also known as banner advertising). We are just one day before the reported IPO filing of Facebook and new stats are shedding more light on the dominance of the social network giant over the online display ads arena.
According to new information from the research firm, comScore, Facebook display ad impressions share in the U.S. was 27.9% in 2011. This represent nearly 33 percent yearly jump after in 2010 Facebook's share was 21% and that also puts Facebook in the number one place for display ads for the third consecutive year.
Very far behind Facebook stands Yahoo with 11% (slightly over third of Facebook's share) of the online display ad impressions share, up from 10.9% in 2010. Google and Microsoft holds a little less than 5% each. Facebook might even grab more share in 2012 since it is predicted to grow even more and reach for the one billion users milestone.
These numbers shouldn't surprise anyone- Facebook is the website where users spent the highest time online, visit the biggest amount of pages per visit and second only for Google in total popularity worldwide. According to Experian Hitwise, last week (the week ending on January 28th) Facebook even surpassed Google in U.S. visits.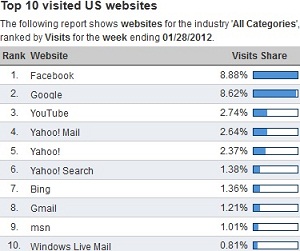 Privately Trading For $83 Billion Valuation
Although Facebook isn't publicly trading (yet), few private markets are offering to sell/buy its shares. In one of these privately trading markets, SharesPost, Facebook's shares recently traded (three contracts on January 30th) for $34-$35.5 each, which grant the social network about $80-$83 billion worth valuation.

Even though this valuation isn't projecting on the actual share price if and when Facebook will eventually go for its IPO (the public offering itself, not the filing process), it is still a good indication of how much people are willing to pay for a share and evaluating Facebook.
Considering the latest estimations of Facebook's revenue ($3.8 billion in 2011, will rise to $7 billion by 2013), there is no justification for a $83 billion company worth valuation. Just for proportion, Amazon, which has a similar worth of $87 billion, had close to $50 billion in revenue in 2011.