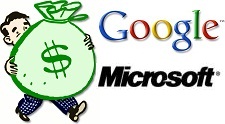 Search is one of the oldest industries on the web, that exists almost since the internet has entered our world. As time went by and more and more (and more) information has been created online, search engines established their significance and dominance role which obviously also reflects in ad revenue.
Unlike other industries that have grown fast for many consecutive years, search doesn't seems to slow down and still shows significant increase rates (which again, reflects in profits for their parent companies) year by year, a trend that is predicted to continue at least in the next couple of years.
Search Ad Spending Will Double In Five Years
A new report of eMarketer is indicating that search ad spending in the U.S. have a long way ahead until reaching to "maturity" which characterized in slower growth rates. In fact, in the next five years the yearly search ad spending will almost double itself until 2016 where it will peak at nearly $30 billion.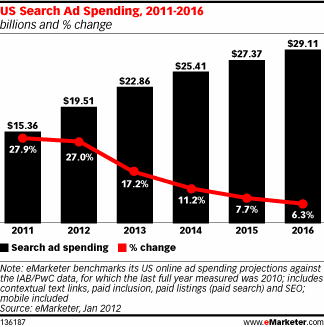 In 2012, the search ad spending is predicted to keep an impressive increase of 27%, rising to $19.5 billion. It will maintain double-digits percentages growth until 2014, while in 2015-2016 it will slow down to 6%-8% yearly growth. These kind of rates will most likely indicate on the industry's peak.
But how can an industry so relatively old can grow in such a rapid pace? I can attribute this phenomenon to two major reasons:
Google and Bing Will Profit The Most
The fact that the whole search industry is progressing is mainly benefiting only two companies- Google and Microsoft (Bing's parent). By 2014, Google's search ad revenue share is predicted to increase to 79.8% while in 2011 it was 74.4%. Bing's share will rise to 8.7%, up from 7% today.
Other search engines like Yahoo (2011-6.7%, 2014-3%) and AOL (2011-1.5%, 2014-0.6%) are predicted to fall drastically. Overall, those top four search engines are predicted to enlarge their dominance from 89.6% of the total search ad revenue today to 92.1% in 2014, where Google and Bing are the only gainers.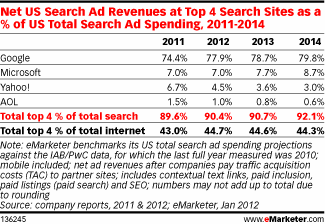 If we dig a little deeper into specific search engine ad revenue growth, we can see that Bing will advance the most in terms of percentages until 2014 (will reach $2.2 billion in 2014), where Google will also demonstrate an impressive ad revenue rise ($20.3 billion in 2014) and as AOL and Yahoo search profits are declining each year.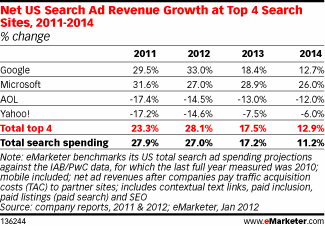 Webmasters can also gain from this. The continuing increase in search ad revenue over the next few years can profit online business owners by using the advertising platforms for publishers of the growing search companies (Google AdSense and Microsoft pubCenter).