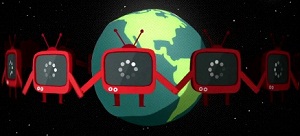 Any fast growing website that achieving a certain percentage of deep reach into its audience eventually slows down (like Facebook in developing countries). It isn't the case of YouTube. The most popular online video site has revealed that it grown in exponential numbers over the last 8 months.
Google bought YouTube back in 2006 for $1.65 billion, an amount that raised a lot of skeptic eyebrows at that time. Now, according to the new recent stats that has been disclosed in a YouTube blog post, it seems like a tiny quantity… Here are the two amazing statistics YouTube shared:
With every minute that goes by, 60 hours of online videos are being upload to YouTube. In other words, an hour of video uploaded each second. That reflects a 30% increase in the last eight months!
More than 4 billion videos are being watched on YouTube each day. That's more than 120 billion videos watched each month. That reflects a 25% increase in the last eight months!
The scary thing is that if considering the predicted increase in popularity of social networking and the mobile industry (which are online video catalysts) in 2012, additionally to the growing consumption of online videos globally, YouTube only suppose to grow much more over the year to come.
Last week, in the comScore's December online video report, data have shown that nearly 22 billion YouTube videos have been consumed in the U.S. alone that month, which is almost fifth from YouTube's overall global share. Just for proportion, no other video site managed to surpass the one billion videos mark.
What Happens In One "YouTube Second"?
To emphasis their stats achievement, YouTube released a video (watch it at the bottom) and launched the site onehourpersecond.com that elaborates what (potentially) happens on every "YouTube second". Here are few of the site highlights examples if you have sensitive ears (it has pretty irritating sound):
In 17 seconds of uploads to YouTube, the fastest summit of mountain Everest is recorded.
In 36 seconds of uploads to YouTube the Byrd Glacier in Antarctica moves 14.76 feet.
In 48 seconds of uploads to YouTube, a Bamboo plant grows 6 feet.
In 1 minute and 3 seconds of uploads to YouTube, one million babies are born.