The last online video rankings report for 2011 from comScore has been released yesterday, elaborating how Americans have consumed videos on the web during the second month of the holiday season. The main headlines- Facebook has dropped drastically as a place to watch online videos for the second month in a row.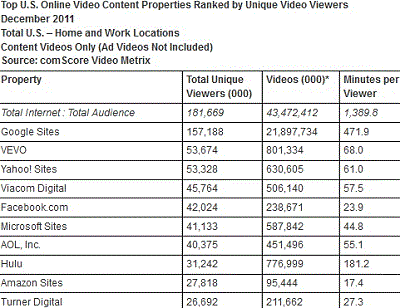 Overall, 181.7 million Americans have watched videos online in December, small decrease of 0.9% from November stats. However, it seems that the holiday season encourage people to watch online videos for longer times- The average viewer watched about 23.2 hours of videos, a jump of 13% compared to the month before!
Winners
Google sites (let's just call it YouTube), reinforced their video king of the web status with an increase of 3.7% more visitors to 157.1 million. In general, 86.5% of the total video audience have watched videos in YouTube (up from 82.7% in the prior month). YouTube also gained a 6.1% of average monthly minutes per viewer with 7.9 hours.
Another big winner is Yahoo. Yahoo sites have benefited a nice monthly visitors increase of nearly 6% to a total of 53.3 million viewers, bypassing Facebook and becoming the third most popular video location online. Even more impressively, the average video viewer in Yahoo sites have watched 61 minutes, a jump of more than 20%!
Probably due to the holiday season, Amazon sites managed to climb to the ninth place with 27.9 million video viewers, topping Turner Digital and squeezing out NBC Universal from the top 10 list.
Losers
The biggest loser is definitely Facebook (for the second consecutive month!) with a drop of more than 17% in online video viewers falling to 42 million viewers and to the fifth place (from third place last month). Microsoft sites also showed a significant drop of 8% down to 41.1 million viewers and AOL video viewers have fallen by 7% to 40.4 million.
More online video droppers are VEVO with 3.1% drop (53.7 million viewers), Viacom Digital with a decrease of 3.5% (45.8 million viewers) and Turner Digital with a drop of 4% (26.7 million viewers).