Traditionally, in November there is a slightly lower demand for online videos, probably because people are more occupied by the beginning of the holiday season arrangements. According to the latest online video rankings report by comScore, even though there was some general decrease in online video demand, it wasn't so significant.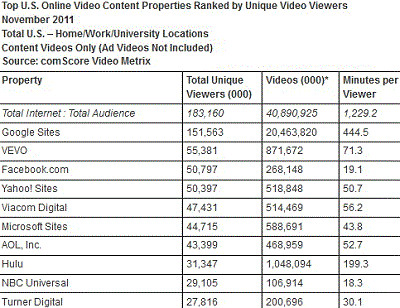 In November, 85.9% of the US internet users (or 183.1 million Americans) have watched videos online, slightly down from 86.2% (or about 184.5 million Americans) in October. There was also a slight decrease in the average video watching time online per viewer- About 20.5 hours per viewer compared to 21.1 hours in the month before.
Winners and Losers
Although Google (Mostly because YouTube) remained the undisputed video leader of the web, it still suffered from a decline of about 9.4 million visitors from the all time record of 161 million viewers it had in October. But the lack in visitors was compensated a bit by more engagement- The average viewer has watched 444.5 minutes per visit, compared to 424.2 minutes in the month before.
Facebook also suffered from a steep decline of more than 9 million video viewers, falling to the third place with 50.8 million visits, surpassed by Vevo's 55.4 million visits. Yahoo was the big winner in November as it managed to climb for 50.4 million online video viewers from 43.8 million the month before, rising to the fourth place.
Microsoft sites went down to the sixth place after a decrease of 4.3 million video viewers to 44.7 million, outranked by Viacom Digital 47.4 million visits. Hulu with 31.3 million visits and a 2.1 million visitors rise, have switched places with the biggest loser of November, NBC Universal, after a huge decline of more than 10 million visits to a total of 29.1 million.
Top YouTube Channels
The report also elaborated what were the most popular YouTube channels in November. The two music channels, Vevo and Warner Music, are holding the first positions where following them the gaming channel Machinima and the content creator Schmooru. Here's the top 10 YouTube channels list: