The latest report (October 2011) of the U.S. online video rankings by comScore has been released couple of days ago and it is revealing that YouTube set new video views all time record and that Facebook had a big jump to become the second most popular place to watch videos on the internet.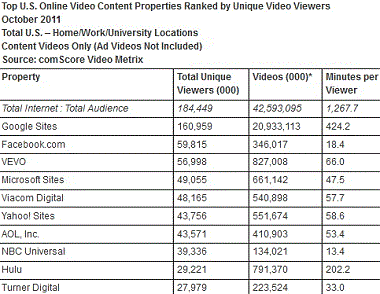 86.2% of the internet users in the U.S (about 184.5 million people) have watched at least one online video in October and an all time record of about 42.6 billion videos in total. The average American viewer has watched a monthly video amount of 21.1 hours.
Google sites (mostly YouTube) ranked as the first online video content property- 161 million U.S. users (2.7 times more than the second, Facebook) have watched all time record high of nearly 21 billion videos (25 times more than the second, VEVO), almost half of all online videos in total.
Another big winner is Facebook- It became the second most popular online video content property (last month it was fifth) after an increase of 20% from September and reached to nearly 60 million viewers. VEVO is third (57 million viewers), Microsoft sites are fourth (49 million viewers) and Viacom Digital is fifth (48 million viewers).
In terms of engagement, Google sites also ranked first with an average of 424.2 minutes for each viewer. The second most engaging online video property is Hulu with an average of 202.2 minutes for each viewer. Although more people are watching videos on Facebook, they aren't such an engaging audience as the average viewer watched only 18.4 minutes (ranked 9th).
It is worth mentioning that NBC Universal had a significant viewers increase of 32%, from 29.7 million viewers in September to 39.3 million viewers in October. However, it ranked last in terms of engagement with an average of 13.4 minutes for each viewer.