It is the time to discover how search engines have performed over the passing month (December), the last one of 2011. In this overview, besides the regular U.S. stats, i am also going to provide a global coverage from Europe, China and a worldwide mobile summary.
comScore – U.S.
According to comScore, For the first time ever Bing has surpassed Yahoo, mostly due to a market share lose of Yahoo- While Bing gained 0.1% share and rose to 15.1%, Yahoo lost 0.6% share and fell to 14.5%. Their biggest rival, Google, managed to gain more 0.5% share and climb to 65.9%, reinforcing its most popular search engine status.
Ask (2.9%) and AOL (1.6%) kept their numbers from November. Overall, the Microsoft-Yahoo search alliance doesn't take off at the last month of 2011 as well, where it even got slightly weaker with a total share of 29.6%, down from 30.1% last month.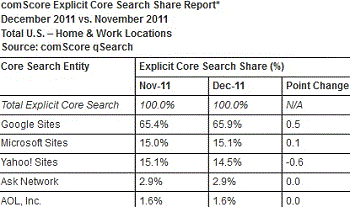 StatCounter – Europe
Google dominates the European search engine market share completely, probably because Bing and Yahoo don't perform as good in other languages except English- Google holds more than 94% of the European share, leaving small fractions for all other search engines.
Bing has slightly more than 2%, Yandex (that controls Russian markets) has a bit more than 1%, almost equal to Yahoo.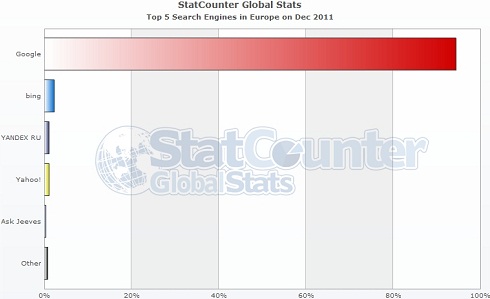 StatCounter – China
I decided to review China, because it is one of the biggest internet users population in the world and because it is one of the only real competitive markets. In China, Baidu is the most popular search engine with about 60.1% share, almost double than Google's (about 35%). Bing and Yahoo holds more or less 1.9% each.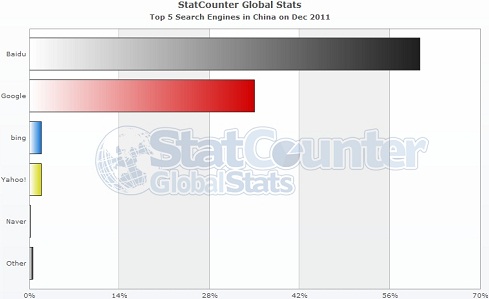 NetMarketShare – Mobile Worldwide
There is not much competition for Google in the global mobile arena- The search giant is holding 92% of the global worldwide market, while Yahoo (surprisingly) holds almost all the rest with 6%. Bing and Baidu holding 1% each.