It is hardly surprising to hear these days that people are using mobile devices to browse through the web more than ever, a trend that only expected to grow. To stay ahead of the curve, online business owners have to adjust to this growing phenomenon by making their websites or blogs more "mobile compatible".
The need to be "mobile compatible" became more than a contributing addition but a true necessity as reports are indicating that traffic from mobile devices will increase by 10 folds in 5 years. But apparently, creating a mobile version of a website or blog isn't enough anymore as consumers are additionally shifting towards another place- Mobile apps.
Mobile Apps Usage Tops Overall Web Browsing Consumption
As smartphones and tablets are rising, the mobile apps industry is developing correspondingly. According to a new analysis of the mobile analytics firm, Flurry, mobile apps usage (measured by minutes per day) by consumers in the U.S. has surpassed the overall web browsing usage (in both desktop and mobile devices combined).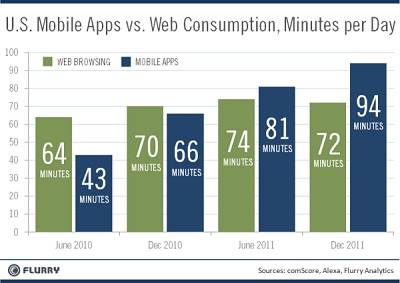 I am not sure that the observation of apps vs web is accurate (i don't think they compete directly against each other), as both have grew over the last year and a half- From June 2010 to December 2011, web browsing consumption has increased by 12.5% (64 minutes to 72 minutes per day) while mobile apps consumption has increased by nearly 118% (43 minutes to 94 minutes per day).
Even though both web and mobile apps consumption have grown, mobile apps usage has grew almost 10 times faster in 18 months. The analysis is referring a major part of the mobile apps usage jump to the increasing popularity of Facebook app platform and adoption by the social network users.
Top Mobile App Categories Consumption
The analysis also elaborated how the mobile app time spent consumption is divided between the different categories: Almost half (49%) of the time spent by mobile apps users goes to play game apps, where additional 30% goes to social networking apps. These two categories are constituting the big majority (79%) of the mobile app consumption. Other notable app categories are entertainment (7%) and news (6%).