Ericsson, the telecom communications and mobile broadband service provider company, is predicting that between 2011-2016, traffic from mobile devices will increase ten times more. Additionally, mobile broadband subscription will reach to almost 5 billion by 2016.
In a new report, Ericsson is providing deep analysis and forecasts the future of the surging mobile market in the next few years. The company used its wide global reach for research and examined almost all regions across the world (180 countries) for the past several years.
Mobile Traffic
It is no secret that the mobile industry begun rising since the smartphones and later the tablets have arrived, but now its backed by numbers. Traffic by mobile has doubled itself just in 2011 and predicted to increase every year by 60% in average. By 2016, the mobile traffic will grow 10 times more than in the beginning of 2011.
By 2016, Tablets traffic will lead the way after growing by about 40 times more and smartphones traffic will increase by about 12 times more. Here's a graph illustrating the mobile traffic growth between 2008 to (forecast) 2016: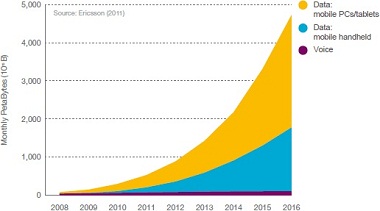 Mobile Subscriptions And Penetration
The mobile penetration worldwide now (Q3 2011) stands at 82% (!) with 5.8 billion mobile subscription. Noticed that it doesn't mean there are 5.8 billion people with mobile devices but estimated as "just" 3.9 billion, because many people have few subscription.
India and China presented the biggest mobile subscription additions in the third quarter of 2011 and were accounted for about 40% of the quarter's total growth. In the following figure you can see the mobile subscription penetration percentage by world regions:

Smartphone Non-Voice Usage Throughout The Day
The report also offered some interesting insights about smartphone (internet) usage during the time of the day. It reveals that close to 40% of people are using their smartphones before they are getting out of bed in the morning and 50% are using their smartphones in bed at night. Here's the figure with full details: