The whole online world (and possibly major parts of the offline world as well) was astounded last week when the Google Chrome paid links story has been exposed. It was a great shock for many webmasters that Google has violated its own guidelines while they try to keep and follow them strictly.
A short while after the story has been published (about one day later), Google's web spam team took a manual action (penalty) against Chrome's homepage by demoting its PageRank for at least 60 days, which caused the page a big drop in Google's search rankings.
The Poll
From the few forums and blogs i am following, i found mixed reactions to the penalty- Some are saying that the web spam team action was too severe, some say it was too soft and some didn't care too much. At any case, it was pretty difficult to identify how the online community is feeling about the demotion.
In order to find out a little better what is the general online atmosphere about this penalty, Barry Schwartz from Search Engine Roundtable conducted a poll where the users could express their opinion about the issue. There were four different answers to the poll's question "are you satisfied with Google's response on Chrome":
Yes
No- Not Enough
No- Too Harsh
Not Sure / Don't Care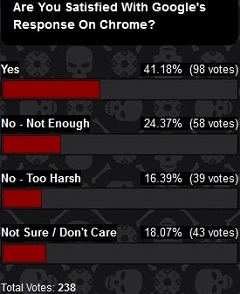 The Results
It seems that out of the 238 respondents, most believe that Google didn't go easy on Chrome: 41.18% (98 votes) answered they were satisfied from the response and additional 16.39% (39 votes) feels Google was even too harsh. Only 24.37% (58 votes) think that Google's response wasn't enough and 18.07% (43 votes) weren't sure or didn't care.
It's important to mention that most of Search Engine Roundtable audience contains experienced webmasters and marketers that knows their way around the web, so if more than 57% have found Chrome demotion as satisfying or even too harsh, Google web spam team probably acted as it should and expected.