During the last weekend, Facebook has announced it will grant app developers the possibility to integrate special currency offers program for the users within the app for benefits. This way, app developers can increase their Facebook's earnings with another option of income source.
The In-App Currency Offers Model
Until now, app developers could only integrate Facebook's dedicated offers application program (Credit Offers), that worked all-over the social network where users could complete offers and earn Facebook Credits they can spend anywhere within Facebook, regardless to the app they earned the credits at.
With the new introduced program (called In-app Currency Offers), app developers can implement their own advertising currency offers that will award the users credits which will work only for the app they earned them at. For instance, if you are playing FarmVille and you need more sheep, you could complete an offer and receive "FarmVille Credits" in return that will work only in FarmVille. Here's a "Fred Currency" example, provided by Facebook: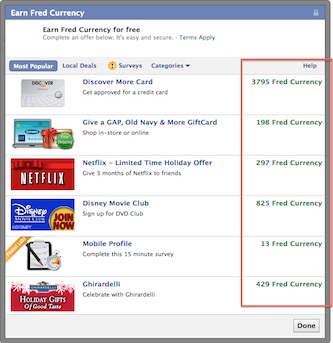 The new program will work with both implementation ways that currently available in Facebook apps:
Offerwall- An offers list will appear in Facebook dialog box where users can choose which one (or more) to complete.
DealSpot- The developer can choose one offer only to highlight in the app.
Actually, the in-App currency offers model was already existed before, however, it was only available for the big companies such as EA, Zynga, Playdom and more. So now, Facebook is in fact just expanding this increased revenue opportunity to all its app developers. But why does the social network giant is benefiting with app developers all of a sudden?
Hundreds Million Dollar Market
Social networking games popularity is increasing at an incredibly fast pace, which naturally also reflecting in ad revenue. In 2012, the social gaming ad revenue market is predicted to grow to $450 million worldwide and in 2013 it expected to jump by nearly 43% to $641 million!
With these kind of numbers and alongside the growing competition from Google+, Facebook can't afford losing app developers and neither social networking game users, definitely not when an IPO is (rumored) just around the corner…