The rising of social networking has raised many more sectors alongside with it. One of them is the social gaming sector which already produced few multi-billion companies. A recent report from eMarketer has examined this phenomenon.
Social Gaming Ad Revenue
Social gaming companies and social networks (mostly Facebook) will earn this year $293 million from ads just from social games, an 80.4% increase from last year! Most of the revenue, about $205 million (which constitutes 70% of the total earnings) comes from the United States alone.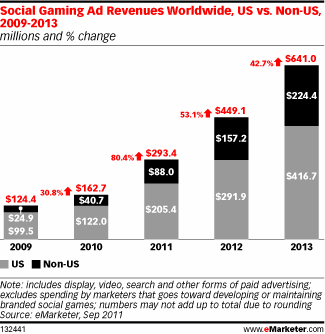 eMarketer forecasts that in the next couple of years, this sector's ad revenue will keep growing in big double digits:
In 2012 it will grow by 53.1% to $449 million.
In 2013 it will grow by 42.7% to $641 million.
Even though that in 2012 and 2013 the ad revenue from the United States will slightly go down to 65% (compared to 70% in 2011, as stated), it still constitute a very big and dominant share from the total ad revenue worldwide.
The Total Video Game Industry Ad Revenue
It will be a mistake just to look at the social gaming sector alone, without looking at the whole video game industry all together. This industry's ad revenue, which contains also gaming websites and advergames, will earn $950 million in 2011 at the US alone: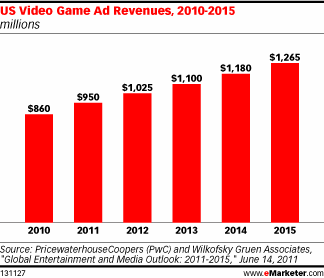 But if we look deeper into the forecast for the next few years, we would discover that the industry will grow mostly thanks to the social gaming sector, which will carry this industry growth forward.
Last Thought
These numbers explains why Zynga intend to start its own social network and go on its own independent path… Social games advertising can be a unique marketing opportunity to reach young audience when it is suitable for your work at home!