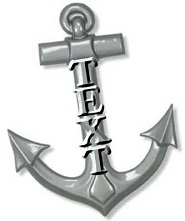 As you know (or not), links from other websites back into your own website (backlinks in other words) are tremendously significant search rankings signals. In this post i want to dive into one of the most important aspects of promoting a website and creating backlinks when working from home- Links anchor text.
Although it may seem like a very basic topic, i can assure you it is much more complex than that and it is covering many different SEO elements. Rand Fishkin from SEOmoz has published a great video (you can find it at the bottom of the post) where he is talking about seven fundamental elements of links anchor text that i want to share with you here.
Few Anchor Texts On The Same Page Don't Provide More Value
There is a common misbelief that as much links from the same page to a website are better, however, it isn't true- Search engines don't consider each and every anchor text as different when they are at the same page!
Higher Variation Of Domains With The Anchor Text Offers Higher Value
Links with your desired anchor text on vary of pages but yet on the same domain don't provide the same value as when your anchor text links are spread among vary of pages from different domains.
Diversifying The Anchor Text Itself
Most professional SEOs are varying the anchor text itself simply not to trigger search engines spam flags, as too many links with the exact same anchor text can demonstrates a suspicious linking behavior. I want to add that diversifying your anchor text can also contribute to more long-tail queries.
Google Considers Only The First Anchor Text
If there is on a page more than one link to a website (we already discussed it isn't adding more value), Google only considers the first link's anchor text and not the other(s).
Internal Anchor Text Linking Helps Only a Little Bit
Search engines do use a bit the internal anchor text linking of your website, however, it is important to emphasis that it is just a bit and excessive usage of internal anchor text linking can raise a spam flag.
The Anchor Text Of Image Links Is The Alt Attribute
When the link is an image and obviously there isn't any text linking, search engines usually are considering the alt attribute as the anchor text. Therefore, it is important to add the alt attribute always when using an image as a link (and also in general).
All Text On Page Affects The Anchor Text
Another signal for the anchor text relevancy is the text surrounding it over the whole page, especially if the anchor text itself doesn't provide much context ("click here", "this website") . For example, "cars" anchor text on a page that discusses cars is more powerful than if its on a page the discusses airplanes.
You can watch the video with full details here: