Nielsen, one of the leading global research companies in the world, posted yesterday its 2011 review of the U.S. digital world stats. The review has covered the top web brands, top social networking and blogs sites and the top online videos sites, all based on the monthly average unique visitors.
Top Web Brands
Google is the top web brand for 2011 with an average of 153.4 million monthly visitors to all its sites (without YouTube). This is about 11.5% more than the second web brand, Facebook which had an average of 137.6 million monthly visitors. Yahoo is in the third place and had an average of 130.1 million monthly visitors. MSN/WindowsLive/Bing are in the fourth place with 115.9 million monthly visitors.
Nielsen has separated YouTube (fifth with 106.7 average monthly visits) from Google and Microsoft (sixth with 83.7 million average visits) from all other Microsoft sites. If we add them up, then Google is first by a much bigger gap (30.3%) while Microsoft jumps to the second place with an average of 199.6 million monthly visits, 45% more than Facebook that drops to the third place.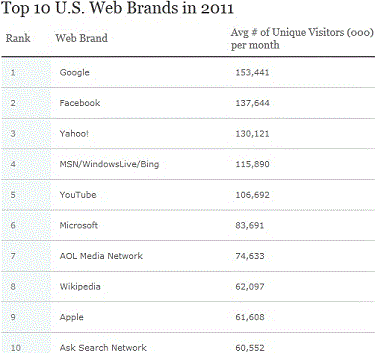 Top Social Networking and Blogs Sites
Facebook is by far the most dominant social network on the planet with more than triple as much as the traffic of Blogger (Google's blog platform) which is second with 45.7 million average monthly visitors. Twitter established itself as the second most popular social network in the third place with 23.6 million average monthly visitors, followed by another blog platform, WordPress, with an average of 20.4 million monthly visits.
MySpace proved to be very much alive (although declining) in the fifth place with 17.9 million average visitors, surpassing LinkedIn that is a little behind with 17 million average visitors. Even though launched only in June and opened for all only in September, Google+ managed to squeeze in to the eighth place with 8.2 million monthly visitors on average.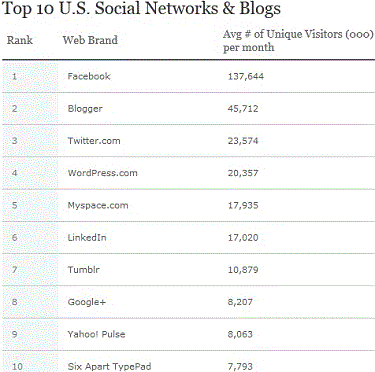 Top Online Video Sites
YouTube is the undisputed online video destination where it had a monthly average of 111.2 million video viewers as it surpassing all the next four places combined! Far, far behind stands VEVO with a monthly average of 34.6 million video viewers. Facebook is also a popular destination to watch videos and it is third with an average of 29.8 million video viewers, while Yahoo is trailing behind with an average of 25.3 million video viewers.