Few days ago i reported that Green Monday online spending are expected growing to more than $1 billion and now it is the time to examine if indeed it lived up for those expectations. I am sure that many of you online merchants and eCommerce business owners already have some answers, but let's try to gather some official stats and numbers.
Well, it seems that not only the online spending have crossed the $1 billion border, but also Green Monday 2011 became one of the highest online spending days in history. According to comScore new report, online spending have increased on Green Monday by 19% compared to last year, more than the seasonal periodic average increase of 15%.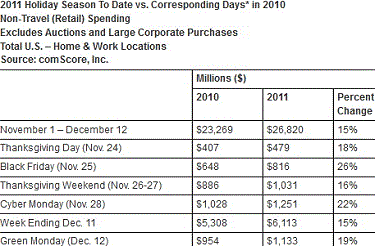 Green Monday's online spending 19% growth, took 2010 numbers from $954 million to $1.133 billion. By that, Green Monday 2011 became the third highest online spending day ever! Additionally, eight out of the top ten highest online spending days and all the top five days, belongs to the holiday season of 2011:
Monday, November 28th, 2011- $1.251 billion
Monday, December 5th, 2011- $1.178 billion
Monday, December 12th, 2011- $1.133 billion
Tuesday, November 29th, 2011- $1.116 billion
Tuesday, December 6th, 2011- $1.107 billion
Monday, November 29th, 2010- $1.028 billion
Wednesday, November 30th, 2011- $1.025 billion
Thursday, December 8th, 2011- $1.024 billion
Monday, December 6th, 2010- $943 million
Friday, December 9th, 2011- $917 million
The report also elaborated what were the fast growing online retail categories compared to last year. It looks like that people are now consuming more digital products- The highest growing category was digital content and subscriptions while following it in this order: Jewelry and watches, consumer electronics, video games and closing the top 5 computer software.
Best Week In History For Online Retailers
Last week (December 5th to December 11th) was the strongest retail sales week ever with $6.113 billion in online spending, 15% increase compared to the parallel week in 2010. Traditionally, the following week (December 12th to December 18th) considers as the strongest online retail sales of the year so it expected to produce more than $6.3 billion in online spending, according to the holiday stats so far.