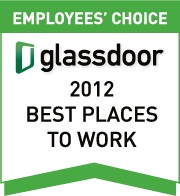 The jobs and careers information site, Glassdoor, has just posted its annual best companies to work for 2012 survey results (complete list at the bottom), which was pretty gigantic- 250,000+ employees from over 65,000 companies have expressed their opinions about their workplace.
The Survey's results are totally self-dependable on the companies employees and don't consider any other "outside" parameters or factors, like other studies are doing (like the Great Place To Work survey) and therefore to be among the top 50 companies is a great honor that employers tend to brag about (justifiably) with future job candidates.
The Winners
The big winner and the company that been crowned as the best company to work for 2012 is the management consulting firm Bain & Company. Bain & Company is a constant star in these surveys- For 2009 it ranked second, for 2010 it ranked fourth, for 2011 it ranked third and for 2012 it finally grabbed the premier.
The second place went to another global management consulting firm, McKinsey & Company. This is a big jump for McKinsey after last year it ranked only 18th. Last year's winner, Facebook, was voted in the third respectable place in total and as the best technological company to work for.
The MITRE Corporation ranked fourth, storming into the top 10 after last year ranked 12th. Google managed to climb back into the top 5 after last year it ranked in the 30th disappointing place (in terms of Google). The online jobs and careers site, CareerBuilder, jumped five places and landed on the 6th place.
Other notable great workplaces are Apple (10th), the web hosting company Rackspace (12th), the giant chip maker Intel (32th) and the most popular daily deals site Groupon (40th). If you want more information why these are the best companies to work for, you can watch the following video where the employees of Facebook and Bain & Company explains why they love their workplace:
Here is the full list of the top 50 best companies to work for 2012: