The global research and consulting firm, Great Place To Work, has released during the weekend its survey results, that ranks the top 25 global workplaces out of 350 potentially international companies.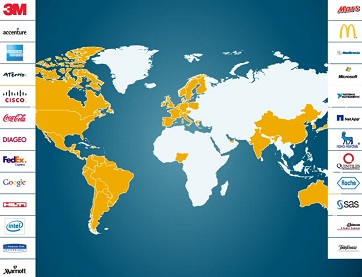 The Results
Microsoft ranked as the best place to work in 2011, before SAS which was second and NetApp which was third. Google, in spite of its famous work conditions and complexes, ranked only fourth. Next in line are FedEx Express, Cisco, Marriott, McDonald's (thanks to its unemployment plan in the U.K.), Kimberly-Clark and SC Johnson closing the top 10 (full list at the bottom).
All top 10 companies comes from the USA and non of the top 25 are from Asia. One of the rank's parameters was the rate of women hired as managers. For instance, 31% of the managers in SAS are women, in NetApp its 23% and in Cisco its 16%.
Among other parameters are the trust relations between the management and the employees, job pride of the employees, credibility, respect, fairness and the comradeship between the people. The survey examined 2 million employees from 45 countries in 5,500 companies.
Qualifications
The companies qualifications just to be take into consideration are pretty high:
Appearing in at least 5 national best workplaces lists.
Having at least 5,000 global employees.
40% of the workforce by the least, must work outside the home country.
To learn more about the survey you can watch this video:
Here's the full list of the best workplaces in the world:
Microsoft
SAS
NetApp
Google
FedEx Express
Cisco
Marriott
McDonald's
Kimberly-Clark
SC Johnson
Diageo
American Express
Medtronic
Intel
Hilti
3M
Telefonica
National Instruments
Mars
Accenture
Roche
Novo Nordisk
The Coca-Cola Company
Atento
Quintiles