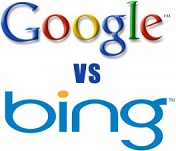 I found a great infographic lately that comparing between the two search engines, Google and Bing, in many different categories. Although some of the information is only presumed (rankings factors) and not up-to-date (market share), the infographic still describes the differences between them nicely.
Click-Through Rate
This section is based on the Google and Bing page CTR study from two months ago. It is interesting to see how Google search page CTR is much higher in every position, meaning more users are clicking on the results in the Google page in general.
Ranking Factors
This is the most useful part i found in the infographic. Here you can found what are the (presumably) rankings factors differences between the two search engines. For example, Google considers page's loading time as a factor while Bing don't.
Market Share
Although the number are a little not up-to-date (updated for June), it is more or less in the last two years range where Google holds about 65% share and Bing (including Yahoo) holds about 30% share. Here you can find the most recent search engine market share for October 2011.
Demographics
While in Google most searchers are males (55% to 45%) in Bing most searchers are females (58% to 42%).
"Bing" In Google, "Google" In Bing
There are 4 million searches every month for the query "bing" in Google on average, while there are 117 million searches (!) for the query "google" on Bing on average.
Here is the infographic with full details: