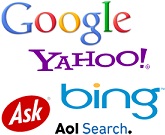 Almost exactly a month after my last report on the search engine market share for September, here is an updated review of the current status from the most considerable research companies comScore (U.S. market share) and Experian Hitwise (U.K market share) for October 2011.
comScore Report – U.S.
The comScore report revealed that in terms of numbers, there were a general increase in the total number of searches of all top 5 search engines to more than 18 billion search queries in October, representing 6% increase from September. It means that there is a rise of people who uses search engines, something to follow in the future.
In terms of percentages (what we all like), Google was responsible for 65.6% of all searches in October, up from 65.3% in September. Yahoo continues its decline after losing another 0.3% share and landing at 15.2%. Bing added 0.1% share and stands at 14.8%. Ask held 2.9% share (down from 3%) and AOL held 1.5% (unchanged).
The Bing-Yahoo search alliance still doesn't manage to rise up and to create some fundamental difference as it held 30% of market share in October (down from 30.2% in September).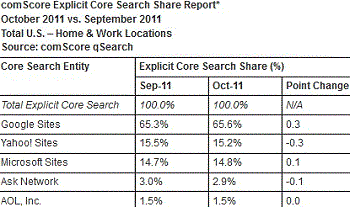 Experian Hitwise Report – U.K.
If you thought that Google dominates the U.S. search market, The report of Experian Hitwise painting a much brighter picture on Google's U.K. dominance. Google held in October 91.02% market share, leaving only leftovers for the others. It is down from 91.34% in September but with this kind of market share it would take much more for significant change.
Bing held 3.85% share and for the last 12 months gained 0.64% of market share, however its search partner Yahoo, which held in October 2.79% share, had lost in the last 12 months 0.66% market share, so the Bing-Yahoo search alliance status in the U.K. also remained the same for the past 12 months.