The small business services provider, Intuit, has announced it is now beginning to provide for its clients an eCommerce store for their Facebook pages called SimpleStore, as part of Intuit eCommerce package (that also includes web hosting, site building software and payment processing).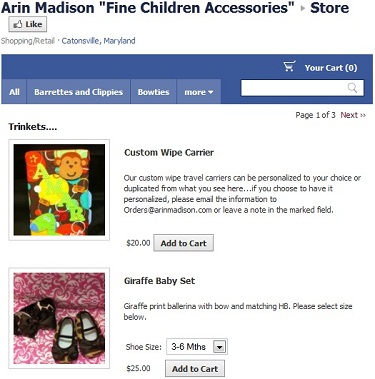 SimpleStore Benefits
Although Intuit isn't the first company that offers these kinds of online retail services to Facebook pages, it may be suitable for small business owners that don't have too much time marketing and customizing their Facebook page- Intuit provide almost completely automatic transfer of the online store data to Facebook.
Another great benefit that Intuit offering is a payment process directly on the Facebook page. It means that customers won't need to be redirected to another page whenever they are making a purchase, as it all processed on the Facebook business page using Intuit Web Payment.
How To Add The Intuit SimpleStore To Your Facebook Page?
The process is very simple- After creating a Facebook business page to the online store (you need to already have the Intuit eCommerce package), SimpleStore suppose to identify it and will ask permission to install the store app. From then, the rest works completely automatic- The app will draw all inventory and prices data from the online store and will add it to a designated "Store" tab on the Facebook page.
Final Thoughts
Today, companies are using social networks like Facebook in many different ways- They are using social networks for announcements, feedback, chats and even for customer service and support services. Online merchants also recognized that potential and moved (at least) some of their eCommerce efforts to the social media.
Intuit's SimpleStore isn't the best eCommerce app for Facebook, however, it does provide a very convenient service to work from home merchants (completely automatic) and as well to the customers (on-page direct payment process) in a very reasonable price ($35 per month).