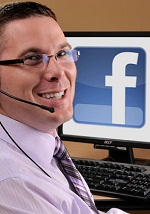 A recent survey by the marketing research and the enterprise feedback management (EFM) company, MarketTools, has examined the effects of the social media on brands and how they use it to engage with their customers.
The survey was conducted among 331 senior executives from companies with more than $10 million yearly revenue in September 2011. The company used its MarketTools ZoomPanel platform which provide very accurate and fraud-free Sampling.
Deep Penetration Of The Social Media
The surveys reveals that 68% of the companies are active in the social media and almost quarter of the companies (23%) are using their Facebook pages for customer service and support and 12% are using Twitter for this kind of services. This points on a deep penetration of the social media to the consumer behavior.
Out of the social media active companies, 48% are active through Facebook, 24% through Twitter and 17% through the company's blog. Another interesting stat is that 22% of CEOs are social media active- Out of those, 68% doing it through Facebook, 44% through the company's blog and 35% are Tweeting.
33% out of the companies representatives have stated that they are giving more focus to social networks compared to last year. The participants have also stated that their main social networking areas are public relations (44%), corporate marketing (42%) and product marketing (34%).
More Connected But Not Perfectly
But not all are good news- Although 95% of the participants think that satisfied customers are very important to the company, only 36% are monitoring and analyzing customers feedback or using 3rd party businesses to do it.
MarketTools director of enterprise products, Karin Adams, has summarized it nicely: "Companies are increasingly embracing social media as a way to interact with their customers, though they are missing an opportunity to incorporate this feedback into a voice of the customer program".