YouTube, the most popular video site online, has been presented in the last week two major updates: A whole new site's interface (including homepage, channels and overall design), and a new analyzing tool to replace Insight called YouTube Analytics. Let's overview these updates and try to understand how they can affect online businesses.
YouTube New Interface
In General, the whole redesign and new look that introduced by YouTube is concentrating around one clear concept- Getting more social. The new interface is offering a clear sense of a more video social networking service than it was before. With the obvious connection to Google+, YouTube also improved the connection to Facebook what was a pretty surprising move (however logical).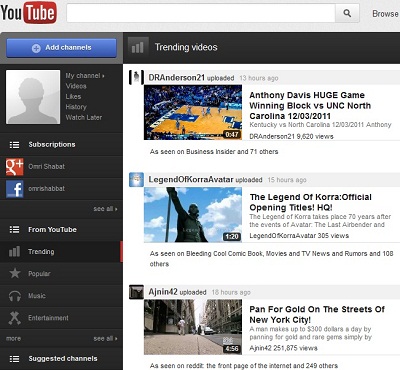 The new homepage contains three columns: The left one includes the main navigation bar which centered around social features like Google+ and Facebook connection, subscribed channels and YouTube's browsing categories. The middle column presents the feeds from what been chosen from the left navigation bar and the right column is showing ads and all kinds of YouTube video recommendations.
There is also definitely more focus now on channels- They are much more easy to customized and users are encouraged to subscribe to as many as possible. Overall, Google intending to provide YouTube more social networking attributes and even willing to strengthen Facebook for this purpose. Social marketing is more significant now for promoting videos- +1's, Likes and channel subscribers.
Here is a short video, describing YouTube's new design and characteristics:
YouTube Analytics
YouTube also announced this week on replacing Insight with a new more comprehensive analysis tools called YouTube Analytics. The old Insight is still available at the moment, however soon enough it will be shut down completely. Here are some of the new features in the new YouTube Analytics:
Overview- The new overview is providing much more details including the number of views and subscribers, social engagement (likes, dislikes, comments, shares, etc.), top watched videos, demographic information and even estimated earnings, all based on the period of time chosen ("Last 30 days" is the default).
Reports- The reports are now more detailed and contains more informative statistics about specific videos performances, social engagement and traffic sources.
Audience Retention- This is a new exciting feature that analyzes specific video watching behavior- How long the users have watched it and where exactly did they stopped.