Mobile and Social networking are the two fastest growing industries in the technological world these days, they are correlated and supporting each ones growth. Last month, i discussed that mobile social networking users are growing in tremendous pace in the U.S. and now it appears that they are growing fast in Europe also.
A new report from comScore reveals that the number of mobile social networking users from the top five leading markets in Europe (EU5 – France, Germany, Italy, Spain and the U.K.) has grown in an incredible rate, even bigger than in the U.S. market! Today, almost one quarter of all EU5 mobile users are also accessing social networking sites with their mobile devices.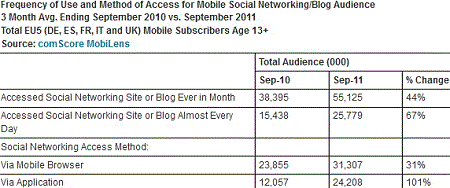 From September 2010 to September 2011, the number of social networking mobile users on a monthly basis has grown from approximately 38 million to 55 million, 44% rise. Daily mobile social networking users have increased by an even higher rate- From approximately 15 million to little less than 26 million, 67% rise.
Although users who are using a mobile browser have significantly increased by 31% (from about 24 million to 31 million), the big rise is attributed to users who access social networking sites through mobile apps where they doubled themselves (from 12 million to 24 million).
Biggest Gainers – LinkedIn and Twitter
LinkedIn and Twitter gained the most from the mobile social networking rise in Europe. LinkedIn mobile audience have grown from about 0.9 million to 2.2 million users, an increase of 134%. Twitter Mobile audience have grown from almost 4 million to 8.5 million users, an increase of 115%.
Tuenti, the social network from Spain, had a 58% mobile users growth rate, From about 1.5 million to 2.3 million users. However, with all due respect to all other social networks, Facebook is by far the most dominant mobile social network in Europe. It now has 39 million mobile users (increase of 54% from last year) about triple as much as all other mobile social networks users combined!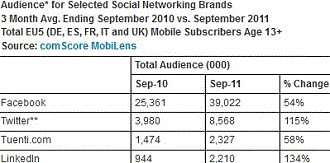 Mobile Users Social Networking Activities
The report also elaborated what are the favorites social networking activities of mobile users. Here you can find encouraging stats from a marketing point of view- 49.1% followed link to sites, 44.3% read brand posts and 26.7% received offers, coupons or deals. Here is the full list of mobile social networking activities in EU5: