It is no secret that social networking sites are prime beneficiaries from the mobile rise in the last couple of years. A new report of comScore reveals how much the top social networks (Facebook, Twitter and LinkedIn) are correlated with the mobile industry and more information about mobile social networking users.
Mobile Users Social Networking Frequency and Method
The report discovers that there are almost 40 million mobile users in social networks on a daily basis, which represent a 58% rise from last year. The report also discovers that there are about 72 million mobile users who access social networks on a monthly basis, 37% increase in a year.

Interesting findings are revealed if we look deeper into the mobile users method of using social networks:
While in 2010 the number of social networking users through mobile app (17 million) was half of the number of social networking users through mobile browser (34 million), the rate in 2011 is almost balanced. The number of users through a mobile app grew by 126% to to more than 38 million, where the social network users through mobile browser grew "only" by 24% to about 42 million.
Mobile Audience In The Top Social Networks
The following stats are showing a fundamental increase of mobile users in social networks within a year (August 2010-August 2011):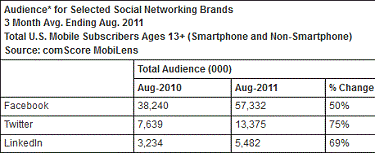 Facebook has the biggest mobile audience with close to 60 million mobile users, 50% increase in a year.
Twitter is second with little more than 13 million mobile users and had the biggest growth rate in a year- 75%.
LinkedIn has about 5.5 million mobile users and also enjoyed a tremendous increase of 69% from last year.
Mobile Users Social Networking Activities
Encouraging stats for people who work from home, Mobile users are very engaging in social networks: 53% have followed a link to a website and read posts from brands. Also, almost 28% have clicked on ads, which is relatively high percentage. Here is the full list of mobile users social networking activities: