Couple of months ago i discussed the top employment sites online in the U.S. and in this post i would like to talk about the top employment and career sites in Europe, which is one of the biggest internet users markets and most engaging ones on the plant.
For accurate stats and data, i will use the latest September 2011 study from comScore that covers the internet usage in Europe. The research company estimates that there are more than 370 million internet users in Europe which represent more than 26% of the total users worldwide.
Here are the September 2011 top employment and career sites in Europe and the changes compared to August 2011: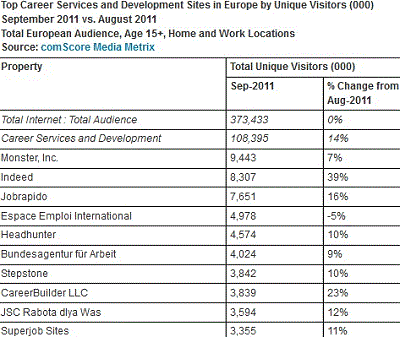 In September, more than 108,000 million people in Europe visited employment and career sites, which reflects about 30% of all European internet users. This also demonstrates a very strong growth of 14% for all employment and career sites in Europe generally, which may reflect the state of the European economy.
Monster is the most visited employment site in Europe with 9.4 million monthly visitors, 7% more visitors than in August. Indeed is second with 8.3 million monthly visitors and a gigantic increase of 39% from August. These two website are also ranked at the top 3 employment sites in the U.S.- Monster is second and Indeed is third.
The international job search engine, Jobrapido, is next in line (third) with 7.6 million monthly visitors, 16% rise from last month. The French career site, Espace Emploi International, is fourth with nearly 5 million monthly visitors, and the only site that presented a negative monthly growing rate (-5%) among the top 10 websites.
CareerBuilder, which is the most popular employment site in the U.S., ranked only 8th in Europe with 3.8 million monthly visitors, however, it reflects a very impressive increase of 23% from August.