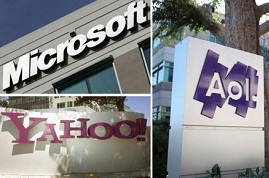 In the last few days, a new mega-deal has been signed between three of the five top ad-selling companies on the web to display ads- Microsoft, Yahoo and AOL. From the beginning of next year, the three technology giants will integrate their ad bidding platforms together, however will keep each one's ad display network.
The companies have released press releases announcing the agreement simultaneously (The press release from Microsoft), stating that the new partnership will benefit advertisers/agencies/publishers by providing greater access to larger high quality ad inventory. The partnership will take effect only in the U.S. (at least for start), while Yahoo and AOL will also join forces in Canada.
Joining Forces To Stop Google and Facebook
The primary purpose of the trio agreement is to break Google's dominance and to at least slow down the rapidly growing Facebook Ads. While Google and Facebook ad revenue is predicted only to grow in the next few years, the ad revenue of Microsoft, Yahoo and AOL is predicted only to hold its ground or to grow just by a little bit in the best case scenario individually.
I assume that the companies are estimating (and hoping) that the three of them together as a pack, could allure more advertisers and publishers for their ad networks and create a combined better ad-revenue growing performances. It is important to understand that the online ad spending in total is increasing each year by big numbers and only expected to keep its growth (watch diagram below), so staying put is in a way, a decrease.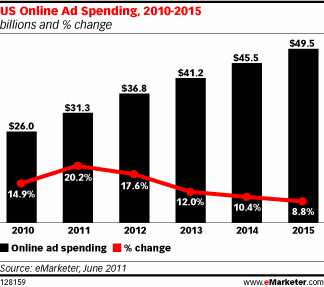 One more thing to think about is that the already-concentrated advertising market share will become even more concentrated after the deal execution- Only 10 companies are holding more than 70% of the total ad revenue share of the web (according to the Advertising Revenue Report by IAB) at the moment. If this agreement will eventually succeed to allure more advertisers, fewer companies will enjoy a bigger advertising pie.
Reactions From Microsoft, Yahoo and AOL To The Deal
"This partnership will create an opportunity where advertisers and publishers alike can benefit from easier access to high-quality inventory." (Microsoft Advertising Business Group Vice President, Rik Van Der Kooi)
"It will be a more efficient, effective and more effortless way to access true premium inventory and formats." (Yahoo Americas Executive Vice President, Ross Levinsohn)
"Today's announcement sets in motion the opportunity for advertisers to achieve scaled solutions across premium publishers." (AOL Chief Revenue Officer, Ned Brody)
Update (3.16.2012)- The partnership is now live, read our follow-up post.