Twitter is joining the web browsers wars (or at least takes a little part in it) after signing a deal with Mozilla to be one of the search engine options in its new Firefox 8 for Windows, Mac and Linux, which just released recently. Here's a screenshot of the Twitter search in Firefox 8: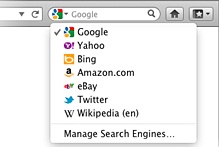 Mozilla explains in an official blog post that the Twitter search can be used to search for topics, hashtags or usernames within the micro-blogging social network and will be available in the English, Portuguese, Slovenian and Japanese Firefox versions (at the moment, more to come in the future).
Until Firefox 8, the users had to download an additional add-on to use the Twitter search through the browser but now it comes as an integral part of the latest Firefox version. Mozilla and Twitter didn't revealed the deal's details but it is safe to assume that Mozilla received some nice compensations from Twitter for the privilege, as close to 100% of Mozilla's earnings comes from such search deals.
The Browsers War Hitting Up
Firefox 8 has been launched just 6 weeks after the last version and just couple of weeks after launching the Firefox with Bing version. Mozilla is doing it in times where Internet Explorer market share is dropping for its lowest rates in the last 15 years and Chrome is galloping rapidly and already threatens to be the second most popular browser.
The Browsers war is in its most competitive era in the history and the entering of Twitter to this arena will certainly add more hit to the already boiled industry.
Here is the current (last 3 months) web browsers market share situation: