While users are adopting more and more advanced mobile devices, more online businesses are adopting online mobile presence- New studies are showing a big increase within a year in smartphones usage and simultaneously, big increase in mobile sites/apps as well. Has your work at home gone mobile yet?
People Adopting More (Smart) Mobile Devices
According to a survey by Nielsen, smartphone devices adaptation by U.S. users has increased by at least 50% at all age groups within about a year (Q3 2010-Q3 2011). Overall, for 43% of all users who have mobile device, its a smartphone.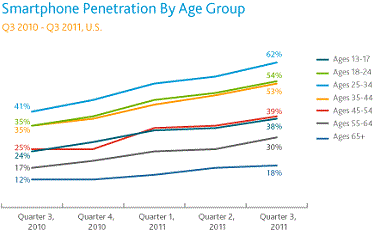 We can see that most people at the ages 18-44 are already using smartphones, when people from the ages 25-34 are leading the way with 62% smartphone penetration. It also seems that many people are getting exposed to smartphones as they are pretty young- 38% of teens (ages 13-17) already adopting smartphones.
Interestingly enough, people at the ages 55-64 had the biggest growth rate among all age groups- While in 2010 17% of them had a smartphone, in 2011 30% of them has a smartphone which represent a jump of more than 76%!
Online Businesses Adopting More Mobile Sites/Apps
In a different study by Acquity Group, we can see that there is a tremendous increase of mobile adaptation by online business owners. However, although the growth rate is much faster than smartphone adaptation by people, most online businesses still don't fully compatible with mobile devices.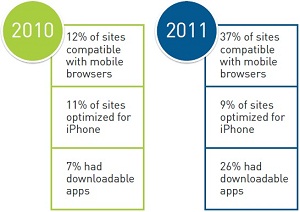 While in 2010 only 12% of sites were compatible with mobile browsers, in 2011 37% of sites are compatible, a rise of 208%! Additionally, in 2010 only 7% of sites had a mobile app and in 2011 26% have a mobile app, this is even a bigger rise of 271%!
Conclusion
Smartphone usage by people is growing in an enormous pace and online businesses are trying to catch up the pace with mobile compatibilities (mobile site and/or app). However there are too many sites at the moment that are still don't fully compatible with mobile devices.
But i suspect that in 2012 we would see that most online businesses will be fully supported with mobile devices, as it seems that online business owners are beginning to realize how significant that is and as there are more free or almost free mobilizing initiatives (like Google's GoMo) for assistance. So, i will ask you again- Has your work at home gone mobile yet…?