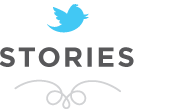 Twitter has launched Twitter Stories, a new service that presents the stories of users from all over the world, telling how the micro-blogging social network changed (or still changing) their lives. I already discussed that wrongfully using Twitter Van get you imprisoned, so why not learning how to do it the right way…?
What Can Be Found In Twitter Stories?
In Twitter Stories you can currently find 14 short stories of people that manage to use the power and influence of Twitter for variety of purposes- Whether if its to help themselves, to assist others, to save their businesses or just to try changing the world a bit, and it all begun from a simple little Tweet…
Among the different stories you can find a user who took all of his followers to dinner, a Chinese fisherman who sells his fish every day through Twitter and even a user that found a kidney donor on the social network. You could also find there (at the moment) one familiar name- The personal story of queen Rania of Jordan.
It is important to mention that Twitter Stories isn't a new concept. Google has Search Stories on a YouTube Channel and Facebook has its own Facebook Stories service for a while now. But even if it isn't new innovative idea, it is still a good service where you could find motivating stories, new ideas or even share your story.
How To Share a Story?
Users who like to share their own story with the world, can do so by Tweeting the story and adding into it the hashtag #twitterstories or by referencing @twitterstories. Twitter suppose to update the service on a monthly basis and encourage the users to add links, photos and videos to help describe the story better than just in the 140 characters.
if you have a good story it could be a really great marketing opportunity and if not it can also be (not less important) a great place to find inspiration for your work from home.
Here's a video from the service, of a person who saved the family business by using Twitter: