The digital marketing agency, Webmarketing123, has released the results of its digital marketing survey for 2011 among more than 500 professional business-to-business (B2B) and business-to-consumer (B2C) marketers, about marketing fields like SEO, PPC and the social media. Here are the survey's main findings:
Most Important Objectives
The two most important objectives of digital marketing for both B2B and B2C marketers are leads generation and sales generation. However, while for B2B marketers leads generation is the top objective (46.4%) and sales generation is second (22.2%), for B2C marketer its almost exactly the other way around- 39.9% for sales generation and 23% for leads generation.
Biggest Impact On Lead Generation Goals
The survey has examined what certain marketing areas had the biggest impact on the lead generation goals. The results shown that although the social media is growing, SEO still has the biggest impact for both B2B (57%) and B2C (41%). PPC is second for B2B (25%) and B2C (34%) and the social media is third for B2B (18%) and B2C (25%).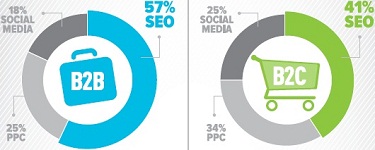 Measuring Marketing Success
Website traffic is the best marketing success indication for both B2B (73.9%) and B2C (79.8%). But from then, they have different success indicators- For B2B next indicators are lead generation (69.2%), website CTR (64.7%) and sales (62.5%). For B2C next indicators are sales (68.5%), website CTR (68%) and call-to-action conversions (47.8%).
Closing Deals From Social Media Leads
55% of the marketers have been closing deals from the social media leads. 40.7% have closed deals from Facebook leads, almost twice as much as LinkedIn (21.1%) and Twitter (20.1%).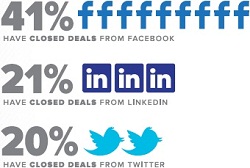 Marketing Budget Allocation
While for B2B marketers, SEO receives the biggest marketing budget share (33.3%) and PPC is second (27.8%), for B2C it goes the other way around- PPC is first (42.5%) and SEO is second (21.5%). Social media marketing is third for both B2B (9.5%) and B2C (15%). However, 60% of the marketers intend to increase the social media budget next year.
Wishing To Learn More About
In this questions category, the social media gained the upper hand- It is the most wish-to-learn topic with 45.9% of the marketers votes and it is beating SEO (38.1%) and PPC (29.1%). Overall, most marketers (62.1%) wish to learn all topics as in one cross-marketing strategy.

Last Thought
While the big majority of marketers (B2B+B2C) understand the significance of the social media rising and intend to investigate it and learn it furthermore in the future, SEO is still the core marketing field and impacting the most on their online businesses.