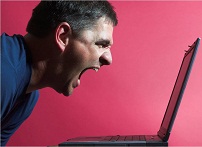 Over the last decade, young people proved to precede the whole market in future consumer behavior prediction, especially when it comes to social networking. Therefore, whenever a new study that puts them in the center is being published, i give it extra attention because it may contain meaningful future marketing insights.
The marketing agency, Mr. Youth, has published a study that examined how the recent Facebook changes have affected teens. It polled 2,000 young people from the ages 14-17 years old and collected insights from an online discussion forum of 100 teenagers (with about the same ages). Here are its main findings:
Overall Disappointment From The Changes
Among the many viral reaction the most common ones were: "Confusing", "annoying", "disappointing" and "useless". While the participants have pointed out that ones of Facebook's greatest qualities are its simplicity and easy-to-use interface, 45% feels that the new changes (such the new Ticker and News Feed) creates disorder and 35% are feeling "uncomfortable" from its level of sharing.
It also seems that the new Ticker is pretty confusing and even bothering- While only 17% are seeing it as valuable, 31% are trying to completely ignore it! Most teens have many friends (100+) and the Ticker simply scrolls too fast for them to notice and focus on updates.
"Like" Value Has Increased
An interesting implication from the changes is that the value of the "Like" has grown where more teens are granting it more meaning- 57% seeing it as reflecting their views on brands, 37% seeing it as a direct endorsement signal and 39% seeing it as a way to receive updates from the brand. Additionally, 56% were exposed to brands when glancing at the new Ticker (when their friends "Liked" a brand), so from a marketing point of view it proved itself useful from that angle.
Opportunity For Google+?
Apparently, the new changes that designed to improve the Facebook's user experience will ultimately favor Google+… 21% have stated that they will use Facebook less and will begin using Google+ more and 6% have stated that they are moving to Google+ while completely abandoning Facebook! Only 3% said that they will use Facebook more and 59% said they will use Facebook as before.