The top research companies of the web, comScore and Experian Hitwise, released search engine US market share reports. Since the last time i reported it, two months went by, so i thought it will be a good idea to examine the situation today.
comScore Report
The report of comScore shows that Bing and Yahoo took small parts of the US share of Google and AOL: Google remains the undisputed king of search, however loosing 0.3% of the share going down to 64.8%. Yahoo gained 0.2% going up to 16.3% and Bing gained 0.3% going up to 14.7%- It seems that the Bing-Yahoo search alliance is growing steadily and stands on 31%.
AOL continues its slow decline- Went down 0.2% to 1.3% and many predicts that it will go below 1% until the end of the year. Ask managed to hold steady and gained 0.1% to 3%.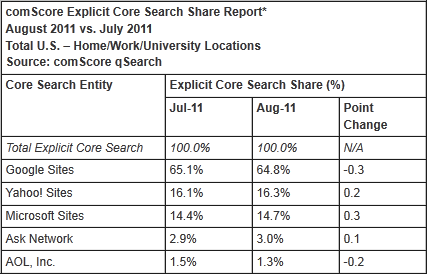 Experian Hitwise Report
The report by Experian Hitwise shows similar US trending- Bing-Yahoo getting stronger while Google is loosing a slight share. But contrary to comScore report, here Google managed to remain above the 65% market share.
Google lost about 1% and stands at 65.09%, Bing gained 0.12% and Yahoo gained about 0.8%. This put up the Bing-Yahoo search alliance at a total of 29% market share, 1% up from last month.

StatCounter Global Stats
Although it is less accurate than the reports of the research companies, StatCounter can give us a good perspective on the international search engines market situation.
We can see that Google is much more dominant on the global market with about 91% market share, while Yahoo (3.6%) and Bing (3.4%) have almost insignificant shares! The reason is that Google algorithm works much better in different languages than other search engines.