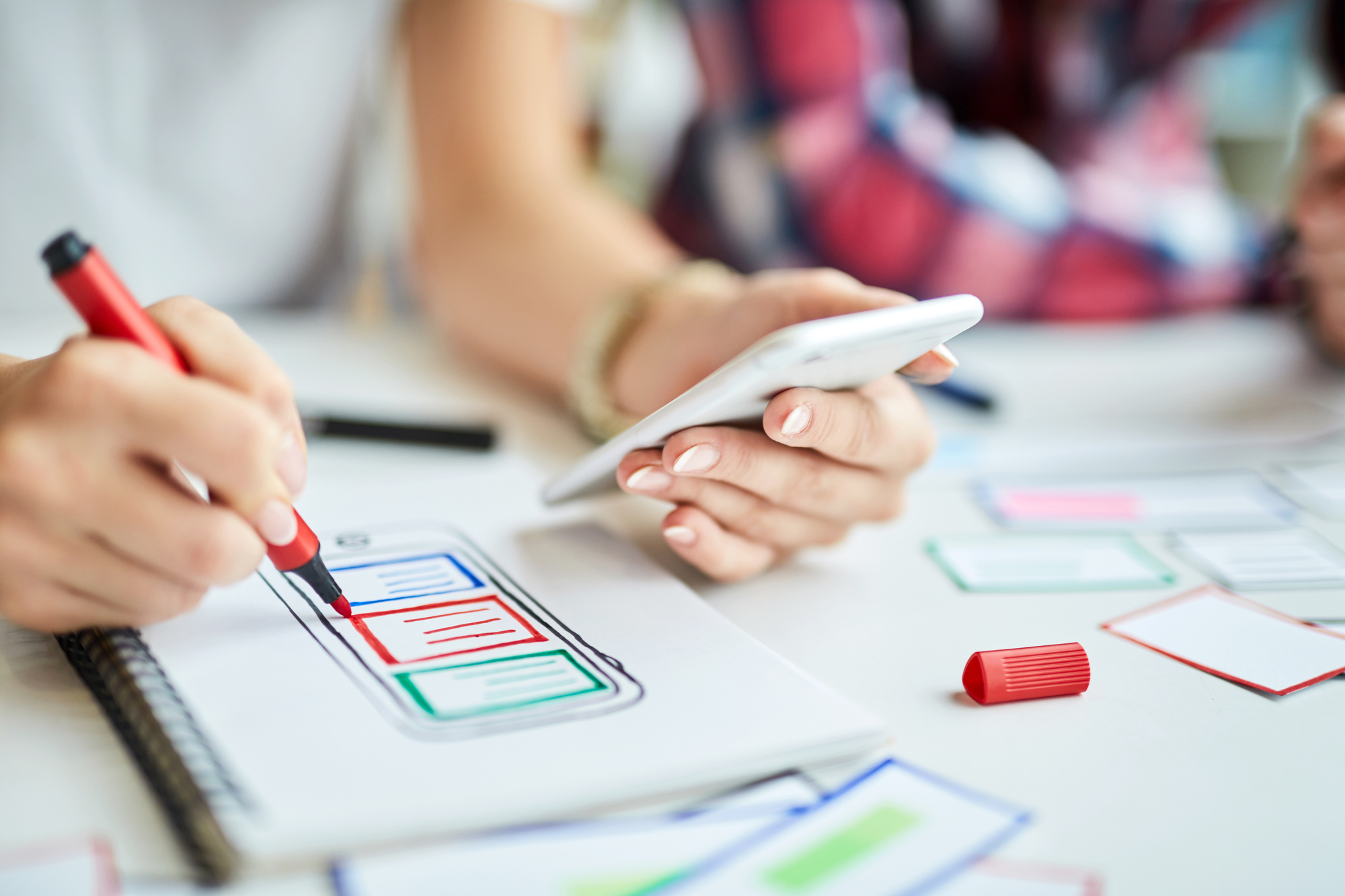 The world of apps may be getting crowded, with TechCrunch noting about 5 million are soon to be on the market, but that doesn't mean they're not making money. Mobile app design is still a great way to make money as a digital designer. The only challenge is finding out how to make your app catch on.
It's easy to get people to download your app. Your real success is measured when people continue to use your app months after they've downloaded it. TechCrunch found the typical retention rate after 6 months is about 30%-40%.
A bad design makes an app hard on the eyes and difficult to use. The best mobile app designs allow for a lot of user control and stay out of the way of your users. To figure out how to build a mobile app that makes you money, follow these 6 steps.
1. Offer "Free" and "Paid" Versions
After you conceive of all of the bells and whistles for your app, figure out the essentials. Save the coolest features and exclusive content for a paid version.
More people will download your free version and use that for awhile. It's a good way to get customers in the door. Give them a taste of what they can expect when they decide to move along to the paid version. Give a generous amount of content for your free users, but make sure they are reminded when they're using up their allotment of free content for the week or month.
One of the best ways to generate profit off of your free app is to add advertising to your free version. This way you'll get something from either paid or free versions of your app.
While people have become accustomed to seeing ads, they may get sick of it and want to pay you the dollar or two to get the ad-free experience. Be sure you're creating quality and engaging video ad content that's short and sweet, letting users get back to what they want to do.
2. Have Unique Content
Before you get off to building out your app, take a look at the types of apps that are offering what you want to offer. See what they're missing and what they're doing right. Your aim should be to bring content that isn't available through other apps.
If you have a lot of expertise in a given field, make sure that you're offering that at a premium. The content that you're able to create is why people will need to use your app. Your app needs to be a vehicle for your content.
You may have to reshape your brand a little if you come across too many similar competitors. For example, if you wanted to create a brand new social networking app, you'd have to offer something truly interesting to compete with Facebook. You may want to focus on what it is you do best, rather than offering the longest list of features.
3. Build Multiple Apps
Building a series of small apps will allow you to get a feel for what the market needs the most. It will also diversify your revenue stream, all the while building up a broader presence for your brand.
When people start seeing your brand name on multiple apps that they use, they'll begin to trust that you're a force to pay attention to in the app world. By creating multiple apps, you're also multiplying your chances for success.
But remember that each one of these apps needs to reflect your company. Putting out a bunch of quick, buggy apps won't make your company look good. It will make you look sloppy.
Use a tool like Kocomojo mobile apps if you need a good design tool to keep your quality consistent to what users demand.
Also, consider the amount of time that you'll need to devote to maintaining every app. For every 10 people who download it, you're sure to get one person who finds a bug or complains about a feature. If you don't take the time to do extensive testing across multiple devices, you risk releasing weak material.
4. Cross-promote Your Apps
Use your free apps to advertise your paid apps in different categories. You can either create direct links on your market page or you can show ads in the app.
If you can relate one app to another, you'll see a higher quality number of hits to your other apps.
See if you can make the cross-promotion automatic. In some marketplaces, bringing up one app will automatically advertise for another app. There should be a place where each app lists "more from this developer" where you can list all of your other apps.
While the most effective method is to have other apps listed when you open one of your company's apps, you should try every method until you figure out what works.
5. Make Them Easy To Use In Short Periods
Most apps are used for just a few minutes at a time while waiting for a bus or while in between tasks. Make sure you can use your app for 2-5 minutes at a time without losing the quality of your engagement.
Having a fun app that engages you quickly is part of good mobile app design. As schedules become more fractured and broken up, these 2-minute blocks might be all that you have.
6. Stay Up To Date
Whether we're talking about your overall design or your bug fixes, always be on top of what you need to add to the next version of your apps.
To incentivize the premium versions, release those versions before the free releases. Most app marketplaces will display when the last version was released, so there's no good way to cheat this.
Updates also give you a slight bump of interest, even among your current users. When new versions are available, users are notified. If they haven't used your app for a while, they could be reminded to use your app by the update message.
Many Ways To Make Money With Mobile App Design
So long as you stay on top of trends and keep the quality of your work high, it shouldn't be hard to make money with your mobile app design. Listen to what users tell you and respond.
If you're ready to take your mobile app design to the next level, contact us for more info.