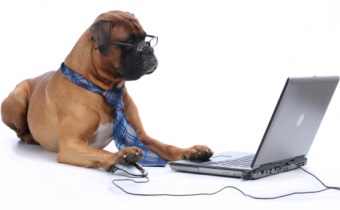 Congratulations on choosing your new dog!
Whether you got the pick of the litter or the pick of the shelter, there are some people your new dog needs to meet. And the sooner you develop working relationships with these pet professionals, the better equipped you'll be to give your dog the very best care.
1. Veterinarian. The best veterinarian isn't necessarily the one who graduated at the top of the class in vet school. Likewise, the best vet may not be the one nearest to your home. Shop around. It's totally normal to schedule meet-and-greet exams for your new furry friend, even if he already has all of his vaccinations and his other health needs have been taken care of.
As with doctors, it is very important for a vet to have a good "bedside manner." Does your dog like the vet? Do you feel comfortable asking questions? Do the vet techs and other staff seem happy to be working there? Some offices have pleasant atmospheres, and others feel very rushed. Some vets can do in-house diagnostics, and others have to outsource certain procedures. With vet offices, you often get what you pay for, so if you want to avoid long waits while simultaneously getting your vet's undivided attention, be prepared to pay a more expensive office visit fee.
Take the time to choose your preferred emergency vet too. When your dog is ill on the weekend or during a holiday, you'll need to take him to a vet clinic that is open 24/7. Most major cities have more than one option for emergency vets; know where each one is located and how to get there, and also know which one your regular vet recommends or prefers to work with.
2. Groomer. You might not think that your dog will ever need a groomer, but don't be so sure. Some dogs need diligent grooming routines in order to avoid painful matting and sores, and their fur can get out of hand before you realize it. For other dogs, an occasional bath is all that is really needed, but without the right tools, you're liable to throw your back out in the process! Most dogs need a nice balance between regular brushing to remove the undercoat and seasonal bathing.
Check one more thing off your to-do list by hiring a groomer to keep your dog's coat in tip-top shape, his shedding to a minimum and his overall scent refreshing. Some groomers have mobile units and can come directly to you. Otherwise, you'll need to drop off your dog. As with the vet, observe your dog's reaction. Does he seem comfortable with the groomer? Is the groomer able to take his time with your dog? Are sedations ever used? A groomer who can get the job done without causing your dog great anxiety and without having to resort to medications is a true gem.
3. Trainer. If you want your dog to be well-mannered enough to accompany you on many adventures, training is a must. Some folks get lucky and manage to raise a polite dog despite never having formal training classes. However, a trainer is highly recommended. A good trainer can help with virtually any problem, including potty training, jumping up on visitors or pulling on the leash. And there are all kinds of recreational activities you and your dog can participate in together, including nosework or barn hunt classes (which let your dog channel his inner Bloodhound), agility, obedience, freestyle, Frisbee, dock diving and much more. There's always something new you can teach your dog!
Even if this isn't your first dog and you feel like you know how to give a dog basic training, signing up for classes will keep you accountable and making progress. Plus, if you ever run into a snag, you can immediately get hands-on advice rather than having to research the issue yourself. There are several different training philosophies; research them to find out which you prefer, and choose a local trainer accordingly.
4. Dog Sitter. Having a dog shouldn't mean missing out on family events or putting aside your travel ambitions. A dog sitter gives you peace of mind while you leave for a business conference, tend to an emergency situation or simply go on vacation. Knowing that your dog is at home, in comfortable surroundings and in his same routine is priceless.
Finding a dog sitter through word of mouth is ideal. Sites like Mad Paws let you browse local sitters and their testimonials as well, which is handy if you're new to an area or just don't know where to start looking. Many individuals run their own pet sitting services, but there are some companies that hire employees as well. Just as with a vet, draw up a list of questions for a prospective sitter and make sure your dog seems to be comfortable in his or her presence. Leave detailed instructions and, to assuage any lingering worries, try out the arrangement with an overnight trip or even an extended day trip. Pet sitters may also offer dog walking services, which can come in useful when you've got a long day at the office.
Which dog professional has been most influential in helping you care for your dogs? Let us know!
Article by Cathy Habas