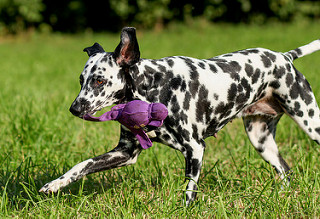 Spring time is almost here! That means it's time to open up the windows, put away the parkas and going to enjoy the weather. If you think you were looking forward to the warmer weather, imagine what your dog must be thinking. There's nothing like being cooped up in a house all winter to make you appreciate the chance to stretch your legs, all four of them! As the weather starts to warm up, it's time to start planning what kinds of activities you want to do with your trusty pup.
If you're at a loss as to what to do, here are a few things to help jog your imagination.
Walks– Nothing beats a long walk on a warm day. Take your dog out for a nice long walk and enjoy the fresh air. If you're both in need of a little exercise after a long winter, this is a great way to start, especially if you start working for speed or distance. After you get some stamina back, you can take your dog for a run which is a great way to not only get back into shape, but having someone to run with you will help to keep you motivated and out there day after day.
Hiking– Hiking is another great spring time activity, although you might want to wait a bit until mud dries out a bit. Going for a nice hike is a great way to get you and your dog in shape while taking in the beauty of nature. Plus, as an added bonus for your dog, there are a variety of new things to smell and sticks to chew on.
Play– There's no substitute for play time when it comes to raising a happy and healthy dog. Now that its getting warmer and you have the time and ability to play outside, do it. Grab your favorite ball, tug toy, or anything else your dog loves to play with and go have a blast. This is a good way to get your kids out of the house too!
Dog Parks– Spring means that dogs parks are open and inhabited by, you guessed it, dogs! Take your dog out where it can meet other doggies is not only a good way to spend some time during the day but it also allows your dog a chance to socialize. Socialization is incredibly important for proper dog training, especially for puppies. So go take a walk and have fun with the meet and greet!
Springtime is wonderful for a number of reasons. As the weather gets warmer, you have a wider range of options for outdoor activities and, more importantly, a chance to finally get out of the house with your dog. While these are only a small smattering of activities you can do with your dog, finding something you both can do is important. Taking the time to play outside with your dog is not only good for health all around, but allows you that very important opportunity to bond with your furry best friend. So grab your jacket and the leash and go outside and play!
+Neil Kilgore is the Jack (Russell) of all trades at Greenfield Puppies in Lancaster Pa. He regularly blogs about dogs, breeders and puppies on the Greenfield Puppies website.