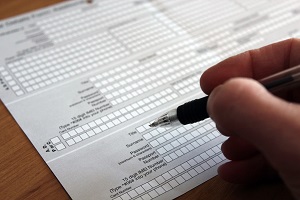 One of the biggest selling points of the companies offering guarantor loans is how easy the process is. If you look at these company websites or you have spent any time watching their TV adverts, one of the most important aspects of their advert or stance is how easy it is to apply for a loan. The emergence of the internet has made it very easy for companies to take details and then process a loan application. If you need money in a hurry you'll find that applying for a guarantor loan is a simple process.
However, you should take the time to understand what the process entails and the steps that it has to go through. If you have previously applied for a payday loan or a traditional loan, you'll find that there are a number of differences with the guarantor loan process. The biggest difference comes with the presence of the guarantor and the fact that you will have to provide details for them too. You are not just offering information or details about yourself when it comes to applying for a guarantor loan.
You have to provide details when applying for a loan
The first step when applying for a guarantor loan, after you have thought about the loan and made sure that you need to apply for it, is to provide your details. There will be a standard for available on the guarantor loan company website and this will ask you for certain information. Each individual loan company is likely to have their own unique application form or process but you should find that there isn't too much difference between the different forms from different firms.
You will be asked to enter the amount of money that you are looking to borrow and how long you want to pay the loan back over. This is a crucial aspect of the loan application process because the firm will undertake an affordability check on you. This means that they will look to assess the amount of money that you can afford to take out with a guarantor loan and the amount of time that you need to pay the loan back without placing yourself in financial danger or difficulty.
The longer the length of time you have to pay the loan back, the lower your monthly payments will be but the more money you will eventually pay in interest. There is a trade-off to be made with this part of the process and it is important that you understand how much money you will eventually have to pay in order to pay off the guarantor loan.
Make sure you provide correct information when applying for a guarantor loan
There is also a need for you to provide your name, a mobile phone number, an email address and a physical address. After this you will need to set up an account which involves setting up a login and password to ensure that you can return to your account at a later time and date. You may even find that the lending company will ask you why you are taking out the loan.
This is a tactic used by some firms to weed out any potential applicants that are applying for money for the wrong reasons. It may also be that this information will help the firm with their marketing activities. After all, if the majority of applicants are applying for finance for the same reason, it makes sense to promote the loan along these lines. A guarantor loan firm is a company like any other and they are always looking for ways in which they can make a better connection with their clients.
After you have provided the initial information, you will receive communication from the firm, by phone, email or through the post. This is a verification step for the company, checking and confirming the details that you have.
After this stage has been completed, you will be required to provide the details of the guarantor. This will relate to their address, their employment history and their income. This is why it is best to have this information at hand or to ask the guarantor to help you fill out this information.
Armed with information regarding yourself and the guarantor, the guarantor loan company will carry out a range of checks to determine if you are in a position to receive the loan. Many firms will also contact the guarantor to ensure that they are happy to proceed with the process. Once all of this has been confirmed, the loan is usually transferred in a short period of time.
Andrew Reilly is a freelance writer with a focus on news stories and consumer interest articles. He has been writing professionally for 9 years but has been writing for as long as he can care to remember. When Andrew isn't sat behind a laptop or researching a story, he will be found watching a gig or a game of football.