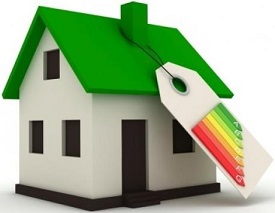 As winter tightens its grip on the nation (and respectably on the entire world), it's a stark reminder of how expensive gas and electricity are for many homeowners across the UK. Not all houses, particularly older properties such as period homes, are as energy efficient as they should be, and this can take its toll on your finances over time.
If you think your property could benefit from a boost to its energy efficiency, here are 5 things you can do to make your home warmer and cheaper to run:
1. Conduct an air tightness test
Air tightness tests are now a legal requirement for new builds, ensuring that modern properties are warm, safe and energy efficient. However, these tests aren't reserved for new houses – if you're concerned about draughts and costly heating bills, it may be worth arranging an air permeability test for your home. This will help you pinpoint air leakage spots, so that you can tackle the problem head on.
2. Insulate your home
Heat doesn't just escape through gaps and cracks in your home; it can escape through the walls, ceilings and floors too. Insulation can keep your property warmer for longer, to reduce your energy bills significantly. This could involve adding loft insulation to your attic, or could be as simple as buying thicker carpets and curtains to keep warmth locked in to your home.
3. Upgrade your boiler
Are you constantly feeling the chill, even with the radiators on full blast? Your boiler could be due for an upgrade. Old boilers are incredibly inefficient, and mean that your systems work harder to keep your home warm. A new, A-rated boiler will be worth its weight in gold, by boosting your energy efficiency and reducing your bills.
4. Make your home 'smarter'
Heating your home unnecessarily is not only a waste of energy – it's a waste of money. Having your thermostat set for certain hours of the day may work most of the time, but if you arrive home late or leave early in a morning, you'll be cranking up the boiler for nothing.
Smart home technology is evolving at a rapid pace, and promises to give homeowners greater control over systems such as their heating, to mean they only pay for energy they need.
5. Replace windows and doors
Have you noticed one room in particular that feels cooler than the rest of the house? Poor quality windows and external doors can let draughts into your home; single and even double glazing can let heat escape if it isn't up to scratch. Replacing windows and doors may be costly, but in the long run it could save you money.
From small and affordable changes to your house, to investments that will futureproof your property from rising energy costs, there are countless ways to improve the energy efficiency of your home. By identifying the key culprits of air leakage and addressing these issues head on, you can experience lower bills this winter – and beyond!
This article was written by Kelly Gilmour-Grassam with useful information from NATTS. You can follow Kelly on Twitter @KellyGGrassam.