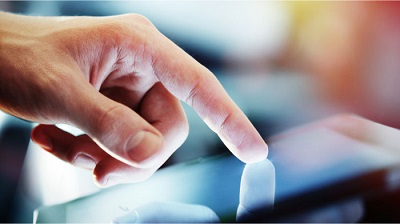 Currently, fitness Apps are the ideal partners when it comes to keeping fit. You should embrace this technology in your daily routine. Below are 4 of the best fitness apps to dominate your routine:
Bleep Test Free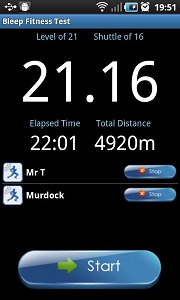 Many people are familiar with the principle of a bleep test. It requires you to run between two markers a set distance apart, repeating this every time you hear a beep. This is a good indication of one's fitness level and a great way to build your fitness and stamina levels. The bleep test is widely adopted by the emergency services and armed forces as part of their training, as well as private gyms and individuals who want to improve their speed and fitness.
Bleep Test Free is an app that lets you practice this demanding drill in just about any location. All required of you is to set up two markers at a specific distance depending on the level. Using the iPhone 4S and its built in GPS functionality, you can clearly see the on screen map where you need to place your markers. When you have done this, you activate the app, which will bleep every time you need to run between the markers.
The beep becomes quicker with every level, which is why this particular exercise is so demanding and efficient. This free app is well worth a download of you are have an upcoming fitness test, or you want to improve your general fitness levels.
MyFitnessPal
This app has a very easy-to-use food diary with over 1.4million foods in the database allowing the app to track exactly what you eat. MyFitnessPal can add your recipes and foods to your personal food database as well as each day it input the meals and exercise and the app monitors the progress whilst you can interact with other users on the forums.
Intelli-Diet
Intelli-Diet is an unique fitness app as it takes what foods you have in the cupboards at home and creates a diet for you.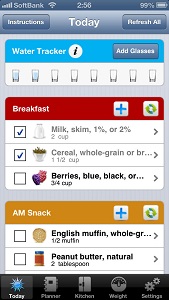 In four easy steps you input your food preferences and goals and the app creates an eating program designed to suit you and it creates a weekly buying list for you too. It can track your progress with charts and even share your own success on Facebook and Twitter.
Ab Workouts Free
If you have ever tried to exercise your abdominal muscles, the chances are you will have only tried the standard crunch or sit-up exercises. Ab Workouts Free shows you how to perform a variety of different ab exercises, and will even talk you through an entire workout.
The app has four tailored workouts for four different experience levels, so it is suited to both beginners as well as those who have been exercising for a long time. Each exercise is demonstrated with on screen graphics which show you how to perform each step correctly.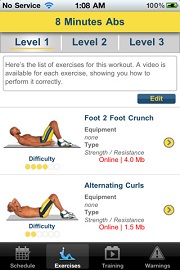 As this app is free, I certainly recommend it to anyone who is looking for an app to help them exercise their abdominal muscles, especially as it caters for different levels of experience.
Conclusion
These 4 great fitness apps to dominate your routine are available for free. They are certainly worth downloading for anyone who is trying to get in shape. Whether you have an upcoming fitness test or simply have a new year's resolution, these apps will definitely help you out.
Daniel Sepp is keen on Apple products and always writes about different apps and games. He works as an editor at MadBiceps.Com. Visit the website to find more interesting articles about fitness apps and workout routines that will help you get fit.